By Sangeeta Chowdhry 
A garment worker in Delhi, India, highlighted how common and insidious gender-based violence is in the workplace when she recounted a close call. She watched a young man on the factory floor follow a woman to the ladies' washroom and wait outside, blocking her in, an action she knew to be menacing. The normally timid woman marched up to the man, confronted him and complained to the manager.  The man was made to apologize, but management diminished the event, claiming he was new and didn't know that it was a women's restroom. The same manager later warned the hiring contractor to be careful about recruiting women who voice complaints in the future. Even though her job – and wages – were now at risk, she said, "Since I know that the male worker was not doing right, I cannot keep quiet, so I reported the matter."
The garment industry employs tens of millions of women globally. It's a source of export-oriented economic growth for many countries. While this dynamic seems like a win for all – cheaper production costs for the brands, greater economic growth for states and employment opportunities for women – however it can also result in an exploitative work environment. The draw of a paying factory job amidst lack of other opportunities has incentivized millions of young women to migrate for low-paying, low-skilled jobs that often do not come with permanent contracts or benefits.  While the garment industry is considered a feminized labor sector, most of the managers and supervisors in these factories are men.
Isolated from their families and communities and with limited employment choices, these women are particularly vulnerable to abuse. When faced with sexual harassment and violence at the workplace, a fear of losing their job or being stigmatized can prevent them from reporting violations.
Global Fund for Women, with support from Laudes Foundation (formerly C&A Foundation) and NoVo Foundation, launched a multi-year initiative in 2016 on ending gender-based violence in the garment industry in Asia. Our grantee partners in Bangladesh, Cambodia, India, and Vietnam are working toward increased leadership and voice of the garment workers; greater political will of the factory management and government officials around gender-based violence; effective mechanisms to facilitate safe reporting to ensure accountability, and shifting attitudes in workplace and community.
While formal laws against gender-based violence in the workplace exist in most countries, they aren't uniformly implemented and workers are often unaware of them.  Even more hidden and challenging to address are commonly-held social attitudes condoning gender-based violence.  In surveys, our partners have found that women workers accept certain forms of violence as inevitable. When asked about verbal abuse, touching, pushing, or sexual innuendos in conversations, many women relayed that is "just what men do." For example, our grantee partner Action Aid in Vietnam, found 80 percent of the garment workers they engage didn't recognize sexual harassment except in cases of rape.
In India, I sat with our grantee partner Nari Shakti Manch in a basement office in the outskirts of Delhi in a manufacturing district. About 40 garment workers had taken their precious few hours of time off on a Sunday to come meet us. Here they shared their stories of abuse and harassment – verbal, physical, and sexual. Every one of them, it seemed, had something to share. One spoke of being fired after answering a question truthfully from a visiting brand representative that she had not received bonuses or salary increases. Many spoke of their supervisors asking for sexual favors in exchange for a better job or higher salary. At one point I asked if there was anyone there who had not experienced any harassment at work. Not a single woman raised her hand.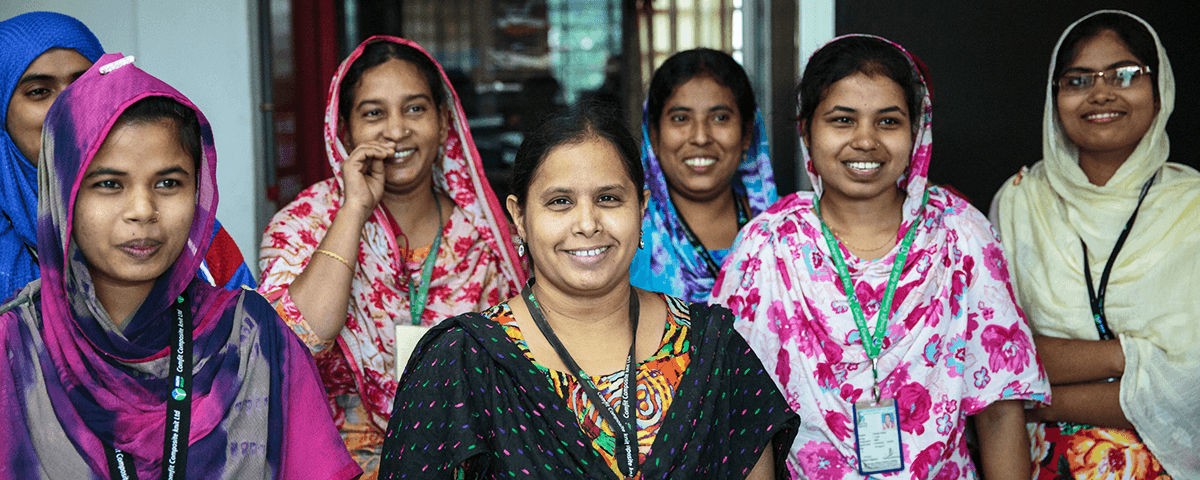 In Bangladesh, our partner Naripokkho had arranged for a visit inside a factory.  The management allowed us to speak to a couple dozen workers in one room at the same time and in the presence of their male human resources person.  Here the women were reticent to speak of any harassment inside this factory but gave examples of it elsewhere:
Women have many problems.
Husbands want to control our money; if we don't give they beat us.
When we travel to work, young men pass comments and we pretend to not hear.
Neighbors say garment workers are not good people, as men follow us on our way home.
In recognition of lives that are more expansive than exploitations they face at work, before we left the room, I asked the group: "What's your dream in life?"  
There was silence for a while.
Then they said:  
We can't dream big dreams, just small dreams. We want our children to do better than us. We all want them to live a better life. Get educated, get better jobs and not suffer like we are. As citizens we want to hold our heads high. 
80%
of the global workforce in the garment industry are women.
Help support Global Fund for Women's efforts to end gender-based violence and drive women's human rights.