Age: 26
Hometown: Uvira, Democratic Republic of Congo
Loves: Reading, music, and talking with friends


#DETERMINED to make women's human rights not an issue only for women, but for everyone




A bold and unapologetic advocate for women's human rights, Amina is passionate about defending the rights of women to be free from gender-based violence and to participate equally in peace building, decision making, and politics – two major issues in the Democratic Republic of Congo. "I fight for the dignity of all people, specifically women whose rights are trampled upon," she says. "My obsession is the struggle for the promotion of women's rights so that they can win back their dignity."

Amina is Program Manager for Global Fund for Women grantee partner Solidarity of Women Activists in Defense of Human Rights (SOFAD), a women's organization dedicated to the defense and promotion of the rights of vulnerable women and girls, including widows, women abandoned by their husbands, and women survivors of rape and sexual violence. SOFAD also works on building peace in the Great Lakes region of Africa.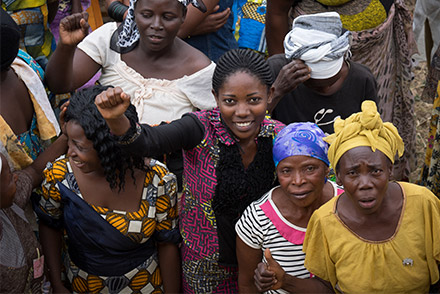 In her "dream job" at SOFAD, Amina supervises local community groups and workshops that include both men and women. The workshops raise awareness about women's human rights, peace-building strategies, and more. Amina says that by including men and women together, "we've been able to offer men and women a space for discussion and meeting, and enable women to gain confidence and experience in public speaking. This helps to dissuade the formal tradition, which prohibits women from speaking in front of men. Including women in the community conversation has allowed the silent conflicts suffered by women to be heard, including disputes over inheritance rights or domestic violence."
Amina believes that women's human rights are not an issue just for women, but for everyone, and she hopes through her work at SOFAD she'll be able to lead others in her community to feel the same. "Anyone of us who espouse the values of freedom and fairness cannot tolerate women in our region being subjected to rape, sexual violence, and the deprivation of rights," says Amina. "It is time that we all invest in the business of gender rights promotion. I think our fight every day is explained in these few words."
80%
of women in northeastern DRC have been affected by the conflict.
These women have by been displaced, survived violence or sexual assault, or lost family members. Global Fund for Women is working to change this.