To some, gender equality might seem like an impossible vision. But with resilient women's groups and women's movements on the front lines every day demanding a better, more equal world for everyone, it's Mission: Possible.
At Global Fund for Women, we believe every woman and girl deserves to be strong, safe, powerful, and heard—no exceptions. This vision of a future where women enjoy their full human rights is a lofty goal—a goal that can seem ever more distant when considering the many challenges and obstacles ahead. In Fiscal Year 2016, we saw major rollbacks in women's rights in places like Honduras, where leading human rights defender and environmental rights activist Berta Cáceres was murdered. Political turmoil escalated in places like Ukraine, Turkey, and Burundi, bringing with it renewed attacks against women and children. We saw attacks on LGBTQI rights in Pakistan and Uganda, and—amid the Zika outbreak—a growing crisis for sexual and reproductive rights in Latin America. In places like Egypt and Turkmenistan, women's groups and activists were bigger targets than ever before—just for speaking up for women's human rights.
But despite all this, it was also evident this year that when women work together, the possibilities are endless. They create lasting shifts in power, opportunity, laws, and culture that are necessary to move the needle on gender equality. This past year, women responded quickly and powerfully to the Chennai floods in India and the tropical cyclone in Fiji—devastating natural disasters that destroyed communities and made women vulnerable. With Global Fund for Women's support, women helped to change laws around violence against women in Morocco and Croatia, mobilize a movement for workers' rights in Cambodia, and get more women involved in peace-building processes in the Great Lakes region in Africa and the South Caucuses in Eastern Europe.
When you read through Global Fund for Women's highlights from the last year, you'll see what we mean about the undeniable power of women's groups. Global Fund for Women's resilient grantee partners and advisors, and our network of generous donors make us hopeful that our mission is possible.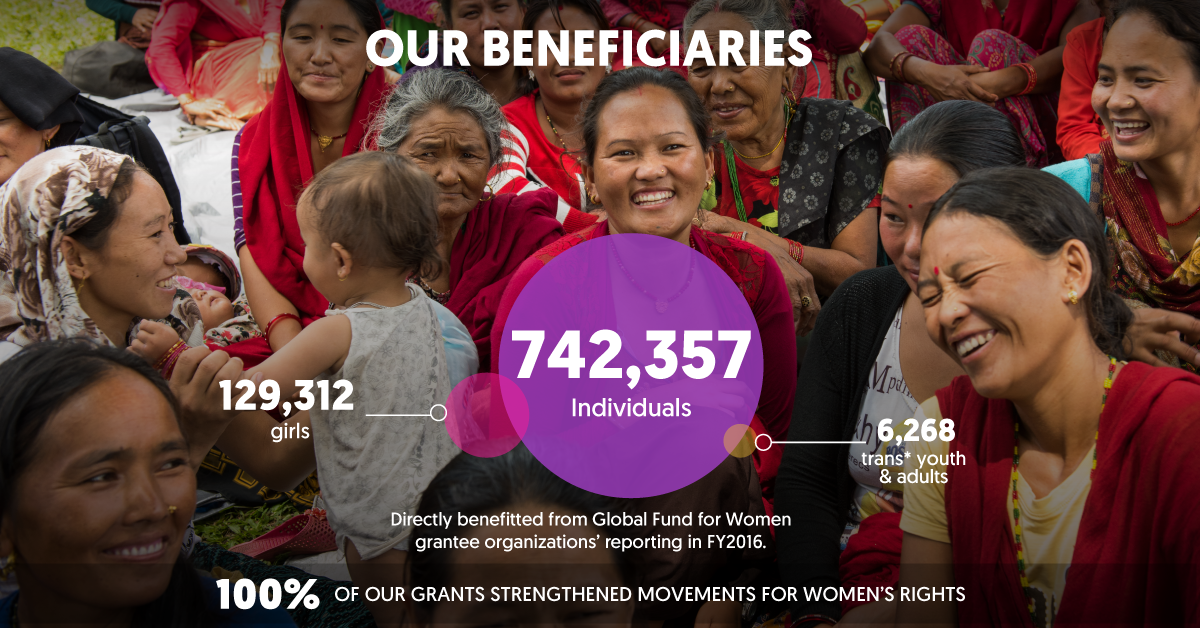 We are proud of the impact we made in 2016, including how the courageous movements we fund supported 742,357 individuals. These movements also contributed to protecting women's rights through the adoption, amendment, or prevention of 30 laws, potentially benefiting over 230 million individuals. We also helped mobilize more than $19.5 million dollars via our work on the AmplifyChange fund for women's groups working on sexual health and reproductive rights, with more than $4.2 million going toward Global Fund for Women grantee partners. Our campaigns, including Determined and Daring, helped to amplify women's voices and raise awareness of critical issues of women's human rights—with a reach of 1,113,874 people.
Our roadmap for the future remains clear: to continue to support women's movements and trust women to know how best to use resources, while engaging new people as champions for gender equality. Because it's only going to be possible if we're all working together toward the same goal.
Will you accept the challenge? Join us and be part of Mission: Possible.
Musimbi Kanyoro, President and CEO, Kenya
Sharon Bhagwan Rolls, Co-chair of the Board of Directors, Fiji
Blythe Masters, Co-chair of the Board of Directors, United Kingdom