2017 was a year of uprising for women's rights around the world. In the face of new rollbacks and threats, people around the world rose up to join movements for women's human rights and gender equality.
In Georgia, Colombia, and Uganda, activists fought fundamentalist efforts to discredit gender equality, undermine access to comprehensive sexual and reproductive healthcare, and threaten the rights of LBTQI people.
In Turkey, Lebanon, and Jordan, local women-led groups partnered with Syrian women refugees to adjust top-down models of humanitarian assistance, helping women stay safe and working to improve access to health care and education.
In Haiti, after Hurricane Matthew struck, women's groups led the movement to rebuild their communities by focusing on the needs of those most impacted and marginalized.
This pattern was repeated by bold, courageous women in countries all over the world.
The last year also saw more people committing to be activists, donors, and champions for equality—building on decades of hard work and inspiration from women's movements. In January 2017, spurred by the ascendance of the new U.S. administration, people came together throughout the world for women's marches demanding gender equality, reproductive rights, and more women in political leadership. This was a year where women worldwide took to the streets—from a march in Poland protesting additional restrictions to abortion laws; to demonstrations in Lebanon to protest inhumane treatment of foreign domestic workers; to the region-wide Ni Una Menos (Not One Less) protests in Latin America against gender-based violence—women around the world refused to remain silent. In recent months, we have been encouraged by the millions of people joining virtual protests through the #MeToo campaign, which shines a light on issues of sexual abuse and violence against women.
Now it's time for all of us to work together to harness this momentum and turn it into lasting change. In the face of rollbacks, political turmoil, conflict, and climate change, resilient women's groups and women's movements are demanding a better, more equal world for everyone.
Global Fund for Women's work is more important today than ever before. What each of us does to support women's groups and movements globally will have a major impact on human rights, equality, peace, and sustainability for years to come.
We're proud of what we accomplished together over the last year. In Fiscal Year 2017, Global Fund for Women awarded $10.2 million in grants to women's groups and funds—more than ever before.
Eighty-five percent of these grants were to groups working in countries where governments repress or obstruct human rights work. This obstruction takes many forms: denying permits for public workshops or demonstrations; limiting access to funding; arresting or detaining activists for speaking out; or even through direct threats and violence. To confront such challenges—in places like Egypt, Turkey, Russia, and Turkmenistan—women are developing solidarity across borders and creating new coalitions.
We believe that investing in women's movements is the most powerful way to create lasting change. In the past year, 95% of our grants strengthened movements for women's rights, creating the lasting shifts in power, opportunity, laws, and culture that are necessary to move the needle on gender equality. With Global Fund for Women's support, women changed abortion rights laws in Chile, mobilized a movement for domestic workers' rights in India, and involved more women in peace-building in the Democratic Republic of the Congo.
Our campaigns, including DefendHer (presented in association with JASS and MADRE), Build Movements Not Walls, and Disruptors, amplified women's voices and raised awareness of critical women's human rights issues, reaching over 1.5 million people globally.
In 2018, we intend to build on this momentum by continuing to partner with, support, learn from, and grow with our expanding global network of sister organizations, women's groups, and women's funds. Like the partners we support, we won't stop until we reach our goal: a world in which every woman and girl is strong, safe, powerful, and heard—no exceptions.
We are in a critical moment. How will you help us to build the momentum for change? We can't wait to see what we can do together in the year ahead.
Musimbi Kanyoro, President and CEO, Kenya
Sharon Bhagwan Rolls, Co-chair of the Board of Directors, Fiji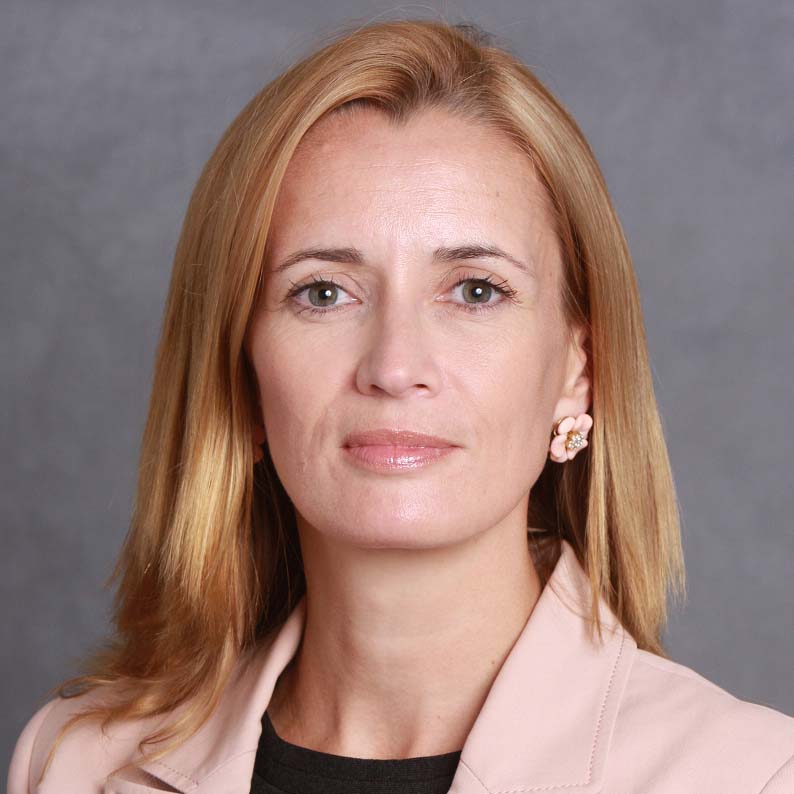 Blythe Masters, Co-chair of the Board of Directors, United Kingdom