Age: 68
Hometown: Bishkek, Kyrgyzstan
The Future: Help strong women leaders in Kyrgyzstan build even more support for women with disabilities
Loves: Spending time with her family, including her brothers and sisters who she helped raise


#DETERMINED 
to protect the human rights of women with disabilities




When Asipa was 17 years old, she was involved in an accident that severely injured her hip, leaving her permanently disabled. She found that her disability affected her life more than she had anticipated; after she graduated from college, she had trouble getting hired, and when she finally did find a job, her colleagues treated her differently because of her injury. "I thought I was the only person with a disability in Kyrgyzstan, because I didn't see anybody else like me," says Asipa. Eventually, she began to meet other people with disabilities, and soon learned about the lack of laws and programs in Kyrgyzstan to aid and protect them. "Once I became disabled, I started thinking about what it means to live with a disability. I realized that I can fight not only for myself but also I can fight for others. I feel strong."

In 1996, Asipa founded the Republican Independent Association of Women with Disabilities of Kyrgyzstan. One of the group's biggest projects was to push for a local law that would make public spaces accessible for people with disabilities. After the law was rejected several times, Asipa took matters into her own hands and built a wheelchair ramp for her husband (who was also disabled) to their first-floor home. "As soon as I made a ramp, the police came and broke our ramp," says Asipa. "They said that we had no right to build it." As a result, she organized a protest with other people with disabilities and alerted the media. During the protest, Asipa was arrested. Although she was freed soon afterwards, she continued to publicly demand her human rights, until eventually the law was adopted.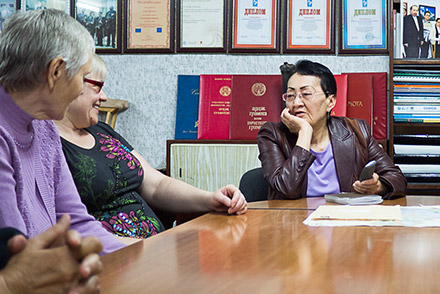 Since then, the Republican Independent Association of Women with Disabilities of Kyrgyzstan (where Asipa still serves as the director) has helped create more laws protecting people with disabilities, including a new requirement that political parties must include deputies with disabilities. The rights Asipa helped win for women with disabilities in Kyrgyzstan changed her life in more ways than one. "When I became involved in public affairs, it felt like I was born again," she says. "Before, I was embarrassed, but then I realized that I can teach others by my example."
10%
of the world's population lives with a disability.
Women and girls with disabilities are at greater risk of gender-based violence in their homes, schools, and the community at large. Global Fund for Women believes all women are entitled to freedom from violence and equal opportunity.