Economic rights are fundamental human rights. Yet around the globe, women are more likely to live in poverty than men. More women work in vulnerable, low-paid, or undervalued jobs. And in most countries, women earn on average only 60-75% of men's wages (UN Women).
We envision a world where all women, girls, and trans people have a voice and choice in the work they do; where they are paid equal wages in safe and secure workplaces; and where they can be leaders and decision-makers in their work.
WHY IT MATTERS
Issues of economic justice disproportionately impact women, girls, and trans people. There are great disparities in both paid and unpaid work, job security, and opportunities. Women factory workers and domestic workers face some of the worst forms of abuse. Climate change poses a greater threat to the lives and well-being of women farmers, who make up the majority of food producers and farm labor in many countries.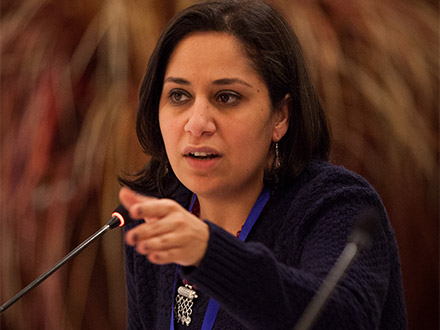 Equal access to resources and opportunities, decent work with fair wages and safe working conditions, and the right to organize—all of these are critical components of economic justice. We believe in funding women's organizations working to secure these rights and supporting women leaders in their communities and in their workplaces. Women also play a critical role in breaking the cycle of poverty. When women have sustainable incomes they invest in their communities and families—buying or growing more and healthier food, investing in their family's health care and medicine, and using their income to pay for their children's education or training. Economically empowered women create healthier, more sustainable, and more equitable societies.
WHAT WE'RE DOING TO DRIVE CHANGE
Women are disproportionately affected by poverty in most parts of the world due to entrenched traditions, unjust economic policies, conflict, and climate change.
But women-led organizations around the globe are making great progress in advancing environmental justice. Global Fund for Women's current economic justice grantmaking priorities are to:
strengthen rights for domestic and garment workers;
support rural women's leadership in agriculture with a focus on environmental conservation and climate resilience
Women disproportionately make up the workforce of domestic and garment workers, and too often these sectors do not offer fair wages, employee protections, or safe, secure work environments. We support groups who work for the rights and protections of domestic workers and garment workers, and those who help build the leadership skills of women workers to enable them to advocate for their own rights.
Climate change is affecting the lives of many of the world's women. Women farmers' economic security is directly linked to the ecosystem that supports the crops they grow or sell to feed their families. This ecosystem is being degraded by unsustainable practices and the effects of climate change. We fund efforts to support women farmers in environmental conservation, climate resilience, and leadership.
OUR TRACK RECORD
Our strategic grantmaking has helped lay the foundation for policies, programs, and resources that support women's work and promote economic justice. Since 1988, we have funded 1,051 women-led organizations who are working to ensure economic and environmental justice. They are building powerful movements for safe working conditions and fair labor practices, helping women acquire sustainable agricultural skills, and securing labor agreements and policies that promote gender equality.
Some examples? We are working with the Novo Foundation, Laudes Foundation (formerly C&A Foundation), and Gender at Work to empower women garment workers in a multi-year, multi-million dollar initiative that will focus on countries including Bangladesh, Vietnam, Cambodia, India, and Myanmar. We also partnered with the Bill & Melinda Gates Foundation on a multi-year initiative that supported 22 rural women's groups working on sustainable agriculture and women's rights, resulting in a 30% increase in income and greater leadership roles for women who participated.
Page Banner photo by Bowerbird Photography.