When a woman is free from violence she can be safe. The right to live free from violence is a basic human right. Yet gender-based violence persists in every country of the world and affects women and girls of all ages and backgrounds.
Despite some progress, the numbers remain startling and the stories painful: more than one in three women worldwide have experienced physical violence; one in 10 girls under the age of 18 has been raped; and while 125 countries criminalize domestic violence, these laws are often not enforced. In regions marred by conflict and political and religious turmoil, women and girls face systematic rape and kidnappings. Women and girls are also routinely subjected to violence in the name of tradition through harmful practices including child marriage, dowry murders, honor killings, and female genital mutilation, or FGM.
Why it matters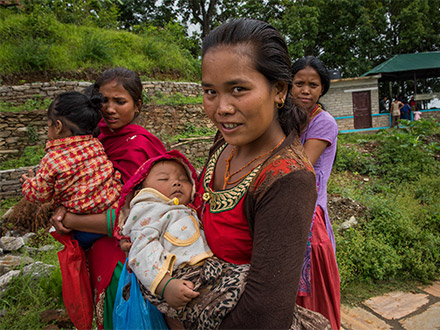 Eliminating all forms of violence is at the heart of all of Global Fund for Women's work: if a woman faces threats of violence, her ability to access her other human rights – to go to work, get an education, and control her own sexual health – is fundamentally endangered.
What we're doing to drive change
Global Fund for Women grantees have helped pass anti-violence laws in 25 countries, protecting over a billion women and girls. Global Fund for Women's grantmaking and advocacy campaigns will continue to mobilize resources and help change laws and social norms, cultivating a culture of zero tolerance towards violence against women and girls in all of its forms.
Our work in the Great Lakes region of Central Africa – where sexual violence has become endemic – shows how we hope to achieve sustainable, holistic change to get to the root causes of violence against women. We are supporting 40 women's organizations that are working together to bring peace to the region, in order to end the war that has traumatized the region for decades.
Global Fund for Women is also committed to sharing the stories and amplifying the voices of the bold women and girls who have experienced unthinkable violence in order to break stigmas and advocate for change at all levels. In our Safe World for Girls campaign, we highlighted the story of Memory, now 18, who fought against her family's attempts to drive her into an early marriage, instead becoming a community leader who challenged Malawi's legal age of marriage, helping successfully increase it from 15 to 18, thanks to her work with grantee partner GENET-Malawi.
Can you imagine the transformative power that will be unleashed when the world's women and girls are free from violence and the fear of violence? At Global Fund for Women, we can. It's what we work for every day.