Meet the new Global Fund for Women
Posted on October 7, 2015
WHY I'M DETERMINED TO CHAMPION AN EQUAL WORLD  WITH NO EXCEPTIONS
Imagine a world where every woman and girl is strong, safe, powerful, and heard. No exceptions.
Can you imagine it? A world where every girl has access to education, every woman can decide if and when she marries, and women get equal pay for work and can run for any office without discrimination! A world where girls can go to school without the fear of being kidnapped and abused, and where women and girls are not subjected to domestic violence and rape. A world where a girl's life is not pre-determined but self-determined.
At Global Fund for Women, we don't just imagine that world. We want to realize it. And every day we're working with fearless women and girls to make it happen.
The time is now. Just last month, world leaders of 193 nations met at the United Nations to commit to 17 new Sustainable Development Goals. Goal 5 commits the world to 'achieve gender equality and empower all women and girls' by 2030. It's time to make gender equality a reality because women and girls will not wait any more.
The political declarations must be matched with moral obligation. Gender equality is the right thing to do and the outcomes are immense for peace and security, and for communities and economies.
So what do I know about how we get there?
The number one thing I know is we must trust women.
Flashback to 1987: Four bold women came together in Palo Alto, California and founded Global Fund for Women. Frustrated by a lack of interest in funding women's human rights, Anne Firth Murray, Frances Kissling, Laura Lederer, and Nita Barrow founded an organization to get money directly into the hands of women's groups all over the world. They believed if they trusted women to act and advocate for their own dignity and rights, it would help end discrimination and inequality all over the world. They were right.
Since that moment 27 years ago, women and girls have proved they can move mountains. They can turn domestic violence from a "private issue" to an urgent public and political concern. They can end civil wars, elect women presidents, and pass new laws that transform women's rights, safety, and opportunities. They can do all of this and more. Trust women, invest in them, and let their voices be heard.
Global Fund for Women has invested in thousands of bold women and girls leading nearly 5,000 groups. With these partners, we have supported and sustained organizations and social movements which have pushed hard and won rights for millions of women and girls. And these activists are bold, and ready to do more.
A new face and ambition for Global Fund for Women
We're driven by the courage of our partners and the generosity of our donors to accelerate the pace for change. We stand with women and girls in their quest for gender equality.
Our new strategic plan compels us to scale up both grantmaking and advocacy for women's human rights. Our aim: to help movements win new rights for women and make the new gender equality goal a reality. We're launching a new brand as part of that commitment, broadening our reach and inviting men and women, girls and boys, to join the effort to create a better world by championing gender equality.
True Determination: The women and girls we stand with
Our new campaign, Determined, shines light on 20 incredible women and girls who define our ambition. You will hear them in their own voices. All of them work with, or have been supported by, our grantee partners – groups we support through grants, advocacy, and collective learning. They are resilient, bold, and committed. Their actions create the conditions where women's lives are self-determined, not pre-determined.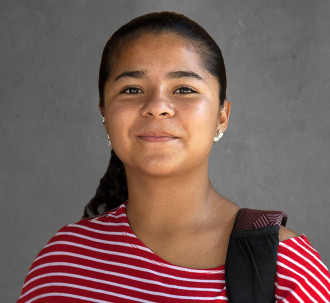 Sixteen-year-old Maria Fernanda, a powerful girl, is committed to helping prevent teen pregnancy by empowering other girls in Nicaragua. Maria is an incredible leader in her community, educating others about their rights. In Maria's inspiring words: "I want people to know that just because I am a woman doesn't mean that I am less."
You'll also meet women like Asipa in Kyrgyzstan who turned an accident at age 17 into a fearless opportunity, and a commitment to advocate for women with disabilities. She has risked her life, even being arrested for protesting in a public demonstration for a law that would make public spaces accessible for people with disabilities. The law was rejected several times but Asipa continued to campaign for it, until eventually the law was adopted.
Yeri was 16 years old when she was taken out of school and forced into an arranged marriage. Now 45, she refuses to let harmful traditional practices like those she experienced persist and diminish other girls. Yeri, together with other women in her community in Burkina Faso, is determined to end child marriage and female genital mutilation.
Every woman is determined. Maria is determined to break stereotypes and be a feminist in a machismo culture. Asipa is determined to protect the human rights of women with disabilities. Yeri is determined to change a culture that harms women and win dignity and health for girls and women in her community.
Every day in my work and life, I meet and interact with girls and women like the ones we feature in Determined. There are millions of them.
I myself was fortunate to be born in a family where our parents gave their daughters and sons the same opportunity to go to school and to realize and make our own choices in life. Like the women in our campaign, I became determined as a result of my life experiences. I'm determined to make equality of opportunity a reality for other women and girls everywhere. No exceptions.
Resources matter
Money and advocacy amplify determination. The women and groups we support need both. They need money to organize, to stage protests, to pay staff to run programs like those Yeri and Asipa run, and those Maria benefited from. They need more awareness and attention for the issues that they face.
Financing the leadership and social change innovations for gender equality is an imperative. Without it the gender equality goal will remain beyond our reach. Gender equality is the right place to be right now. The needs are urgent. Girls everywhere are dying from the effects of early pregnancy before their bodies are ready. Yet other girls are ready to embrace new education and technology, and become co-leaders – with men – in changing the world. They want this today, not tomorrow. The wind is blowing in the right direction. Many people now see the moral value, the economic and social gains, and the benefits to the health of our planet that will result from gender equality.
How can you make a difference?
We're #Determined to make gender equality a reality by getting more money and attention to where it will make the biggest difference for women's human rights. Join me and Global Fund for Women in in our call for "Champions for Equality".
Be a gender equality champion by sharing your voice, making a donation, or passing on the message through your favorite media – social media, radio, art, letters, word of mouth, songs, photos, or creative storytelling. Invite others – boys and girls, men and women – no exception! Together, let's drive change toward the world we're imagining, where every woman and girl is strong, safe, powerful, and heard – no exceptions.
Page Banner photo by Bowerbird Photography.
"Like the women in our campaign, I became determined as a result of my life experiences. I'm #determined to make equality of opportunity a reality for other women and girls everywhere. No exceptions."

Musimbi Kanyoro, President & CEO, Global Fund for Women