Age: 29
Hometown: Tbilisi, Georgia
The Future: Become the first openly lesbian mayor of Tbilisi
Loves: Playing guitar, studying languages, and taking pictures using real film cameras


#DETERMINED: to win equal rights and freedom from violence for LGBTQI people in Georgia




When Natia was growing up in the conservative country of Georgia, she struggled with her sexuality. "As a kid, I always had crushes on women. When I hit puberty and I realized what was happening, it was scary because I didn't know anyone who was gay," she says. "All the negative stuff that I heard [about LGBTQI people], you internalize it when you're isolated. You internalize all the stuff that's being said and feel like it's about you."

Eventually, Natia decided to make a change. "I decided that it was time to stop hiding myself, and I really needed to meet people that shared similar experiences to me." So, in 2009, Natia joined Global Fund for Women grantee partner Women's Initiative Supporting Group (WISG). Through WISG, Natia met other members of the LGBTQI community in Tbilisi. Soon, her involvement with the group inspired Natia to become an activist fighting for human rights for the LGBTQI community in Georgia. She began to volunteer for WISG and even decided to further her education, applying to a master's program in gender studies. Empowered to unleash her inner leader, Natia soon took her involvement with WISG to the next level: in 2013, she became a program director, and as of the summer of 2015, she is the director of the organization.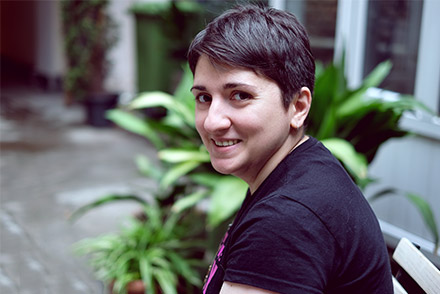 Natia became a leading activist in the LGBTQI community in Georgia, working to build solidarity within the movement and win more human rights for gay people in Tbilisi and beyond. While there are laws protecting gay and lesbian people in Georgia, they are rarely implemented, and the public attitude towards LGBTQI people is largely negative, in part because the powerful conservative Georgian Orthodox church campaigns aggressively against LGBTQI rights. Says Natia, "We have rights but we're struggling to enjoy those rights because there's always someone that wants to be violent with you."
Natia is proud of the work she's done as a bold human rights activist through WISG, including advocating for LGBTQI rights to live free from violence and discrimination. But Natia says she's especially proud to now have the confidence to be true to herself and others about her sexuality and identity—which has helped other LGBTQI people come out, too. She says, "Lobbying, writing reports, and doing research is something you can learn, you can always do that—daring to be out, daring to be at the frontline, is a different kind of process. It takes a lot of emotional work."
Editor's Note: Since original publication of this story in October 2015, Natia has moved on from WISG to pursue her master's degree in gender studies outside of Georgia, though she remains a passionate ally and advocate for the organization and the movement for LGBTQI rights in Georgia. 
87%
of Georgians say homosexuality could never be justified.
In such a socially conservative country, LGBTQI women face even more barriers to equality. Global Fund for Women is working to change that.