Gender Justice Movement Abortion Rights in East Africa

Abortion Rights

Gender Justice

Sexual Health and Reproductive Rights
Kenya, Rwanda, Tanzania, Uganda
A vast majority of abortions in East Africa are unsafe due to widespread cultural stigma and criminalization of the procedure in many circumstances. The imperialist and racist global gag rule (which was recently repealed) and Helms amendment (which is still in effect) further disrupted health services, stigmatized abortion, and made it harder for civil society organizations and coalitions to operate, effects which may be long-lasting. Feminist groups and activists in the region are working to change this reality.
Every country in East Africa allows abortion under at least one legal exception. However, in such countries, there is limited access to safe procedures due to stigma, onerous and unnecessary administrative hurdles, lack of regulation and coordination, and widespread belief that abortion is completely illegal.
The result is that a vast majority of abortions in the region are unsafe. Women and gender diverse people are being punished—sometimes at the cost of their lives—for being poor, for getting raped, for their sexuality, for their tribal affiliation, for living in rural or remote areas, for the way they earn a living, race, or for the neighborhood they live in.
"Grassroots gender justice movements are doing the crucial work to build back from the harmful effects of the global gag rule and press forward for lasting and sustained change—and we will be there every step of the way to support their efforts with funding and resources."

Global Fund for Women President and CEO
Global Fund for Women has been supporting a growing movement fighting to advance abortion rights in East Africa. Our grantee partners are providing information about safe abortions, including about medical abortion via misoprostol—through Freedom of Information Acts, via hotlines, direct services and more. They are advocating for abortion rights at the local, national, regional, and global levels. LGBTQI+ and sex worker activists are also increasingly working to make safe abortion accessible to communities that have long been stigmatized and criminalized for their identities or choice of income generation.
of maternal deaths in Kenya are due to unsafe abortions.
Despite false claims that restrictive policies such as the global gag rule prevent abortion, abortion rates rose by 40%.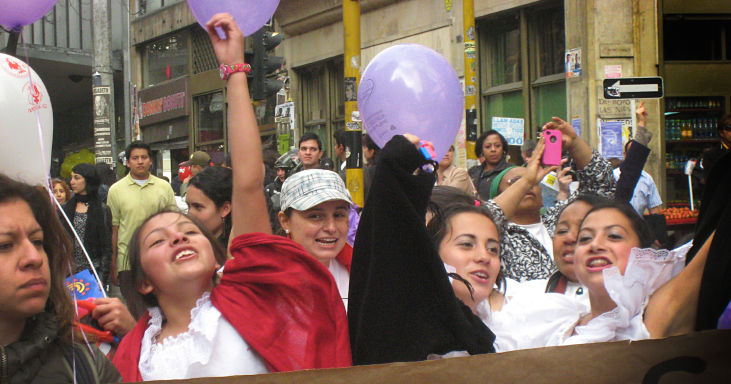 Tell us about your experience
Far too often, women's efforts around the world are not heard. Let's amplify our stories and recognize each other's work.