Gender Justice Movement Palestine Feminist Anti-Violence Movement

Gender Justice

Sexual and Gender-Based Violence
Palestinian women, girls, and gender diverse and gender nonconforming people face multiple sources of violence—from the Israeli military occupation to a society dominated by patriarchy. Activists and women human rights defenders are fighting to end the widespread—and, in some cases, legally sanctioned—impunity for violence against women, sexual and gender-based violence, and femicide in Palestine.
Incidents of gender-based violence against Palestinian women, girls, and gender nonconforming people are exacerbated by patriarchal norms and the ongoing reality of the Israeli military occupation.
Existing laws against gender-based violence are outdated and discriminatory. Perpetrators often walk free, especially in cases in which a woman is killed by a relative who perceives her as having brought dishonor to the family. In recent years, thanks to incessant work by Palestinian activists, advances have been made to hold perpetrators accountable, but there is still a long way to go. In 2017, the murder of Suha al-Deek by her husband was finally reconsidered only after years of effort by feminist activists and organizations in the West Bank. The murderer's initial sentence of just two years in prison was, on appeal, later increased to ten years after pushback from activists.
"Every year we have more cases of girls being murdered under the guise of 'honor.' Killing under the name of honor is being used as a tool to murder females."
This kind of lax sentencing is the result of an outdated penal code, which allows judges to use their discretion in "extenuating circumstances." For instance, a personal waiver by the plaintiff may be cause for a reduced sentence. In such cases, a woman's husband, brother, or father could murder her, justifying this in the name of family honor, and then another family member could waive the need for investigation or prosecution. Anti-gender-based violence organizations and gender justice movements have focused on changing laws and policies like these to prevent and prosecute gender-based violence.
Recently, high-profile murders—including the death of Israa Ghrayeb in 2019, who was reportedly killed by her brother for posting a video of herself with her fiancé—have led to mass mobilizations, with thousands protesting to demand the end of the culture of violence against women. At the same time, this increased attention has also led to an increase in attacks against women human rights defenders and activists.
A Turning Point in Ending GBV
In late 2019, the case of Israa Ghrayeb, who was killed by her family near Bethlehem, sparked outrage across Palestine and the Arab world. Shattering public taboos, women shared their own stories of domestic abuse on social media. This marked a turning point in public opinion and led to incredible growth for the movement to end violence against women. Thousands of Palestinians in cities across the region marched in protest under the banner of "No liberated homeland without the liberation of women."
of Palestinian women reported experiencing violence by their husbands in 2019.
There is a 14% higher rate of violence in the Gaza Strip than in the West Bank.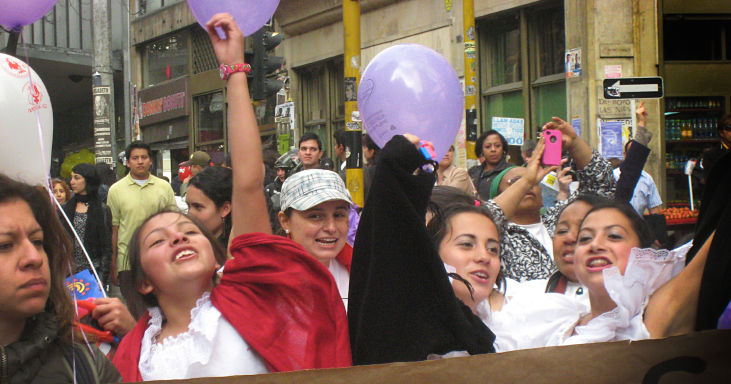 Tell us about your experience
Far too often, women's efforts around the world are not heard. Let's amplify our stories and recognize each other's work.