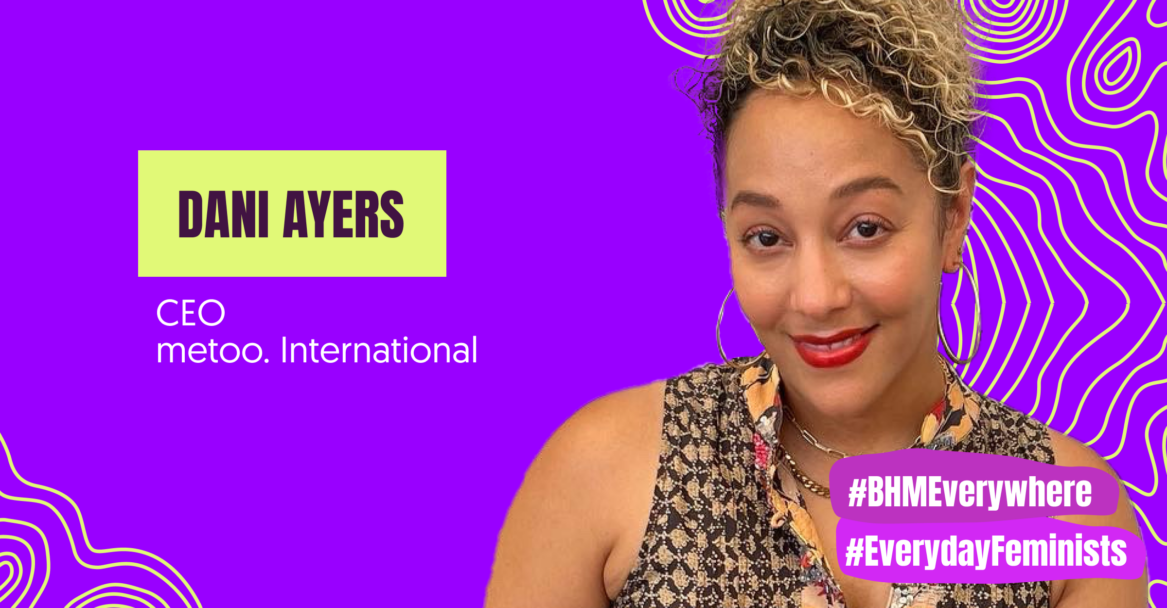 This Black History Month, we interviewed Black leaders in philanthropy, development, and global health from across the world who are showing up, shifting power, and putting solidarity into practice across borders. Our movements are bolder, healthier, and better resourced because of #EverydayFeminists working to reshape these sectors from within. Explore the entire campaign, and join us in lifting up the people and organizations across the world who center Black freedom, Black joy, and Black dignity every day.
With 17 years of experience as a movement infrastructure architect, Dani Ayers is the first CEO of metoo. International. Global Fund for Women partners with the 'me too.' global movement to support a well-resourced ecosystem around the world that works to end sexual- and gender-based violence, and make healing and actionable support systems available to survivors.
The roots of international development and philanthropy go back to colonial times—and the sector still reflects those dynamics. What do you see as the future of philanthropy and international development? 
Philanthropy has a key role to play in the continued efforts to build a world that is actually free. And philanthropy is too often disconnected from the material conditions they are attempting to fund. Most do not understand intersectionality across issues of violence, and race, caste, and class. We cannot rely on government or historical institutions to remedy acts of hate and violence so often experienced by those who are under-resourced. Black and Brown communities are consistently harmed and re-harmed by these systems. Philanthropy can be a disruptor and can enhance the development of global Black and Brown communities through investing in the individuals and groups advocating for safety and harm reduction.
How can philanthropy change past practices that are the result of colonialism, patriarchy, and racism?  
Center solutions brought forth by those most impacted by issues of class, caste, race, gender, and sexuality, for a start. Interrogate the problematic philanthropic landscape. Educate and organize themselves, and pay community members to provide a much-needed community context. Elevate those most impacted as leaders, and then resource them. Connect them to powerful individuals and groups in other global under-resourced communities. Force accountability on the systems that have perpetrated violence, and patriarchy, and demand they be abolished in the effort to rebuild equitable, fair, and inclusive processes and policies.
Solidarity is something we talk about a lot at Global Fund for Women, and in the philanthropy sector. How do we put survivor-centered solidarity into practice? 
Bring forward survivors' voices and stories. Elevate the experiences and leadership of those most impacted by sexual- and gender-based violence—Black and Brown women and girls, and those across the gender spectrum. Listen to the needs of survivors. Invest in survivor leadership. Understand that healing is part of the work to interrupt sexual- and gender-based violence, no matter who experienced it, where, or when. The healing journey is never over for a survivor, and only when we invest in healing can we begin to prevent more harm. me too. International offers a self-guided survivor healing platform, Survivor Sanctuary, to aid survivors on their healing journeys.
Only when we invest in healing can we begin to prevent more harm.

CEO of metoo. International
What does the struggle for survivor power look like across the globe?
Many do not know about—or turn a blind eye to—the atrocities occurring in Black communities throughout the Diaspora. From conflict-related sexual violence as a current tactic of war in Somalia, and the horrific and long-standing experiences of survivors due to the political conflict in Libya, to the powerful fight for abortion rights by survivors in Argentina and the US, this is an ever-present issue. And there is also powerful work happening to combat it sexual violence globally. For example, in 2021, there was a survivor's hearing held in the Democratic Republic of Congo, funded in part by Global Fund for Women, with survivors and experts from various African countries convening to discuss what reparations could look like for survivors there. The global community has much to learn from gatherings like this.
What is a first step that people can take to be an everyday feminist?
Listen to and believe survivors of any kind of harm. This will no doubt lead to an understanding of the need for feminist principles and values, and provide a foundation for why the voices and experiences of women and femmes, specifically in our most under-resourced communities, provide the best guide toward reimagining what safety looks like across the globe.
GET SOCIAL WITH US
Join us as we sharing Black history around the world that features the people and organizations who center Black freedom, Black joy, and Black dignity every day.
We're most active here. Follow us to be part of timely conversations.
The best place to show your support for gender justice activists around the world.
Where we share how we see the world.