8 quotes that emphasize why we should celebrate & support women land defenders for Earth Day
Climate change is affecting the lives of many of the world's women, girls, and trans people. Women farmers' economic security is directly linked to the ecosystem that supports the crops they grow or sell to feed their families. This ecosystem is being degraded by unsustainable practices and the effects of climate change.
Women, girls, trans people, and indigenous women land and water defenders are resilient, creative, and steadfast in their commitment to standing up for gender equality and resisting encroachment on their water and land—no matter how big the threat. Protecting land and natural resources from climate change, increasing state corruption, megaprojects spearheaded by powerful corporations, and systemic armed violence have pushed indigenous women to mobilize their communities and lead the way to protect their survival and way of life. The struggles of women climate activists are gaining more traction and visibility as attacks and violence against them continues to grow in response to their relentless activism—but their voices are still largely missing in global conversations about climate change, sustainability, and access to land, water, and natural resources.
Global Fund for Women funds efforts to support women and trans farmers in environmental conservation, climate resilience, and leadership, and we're also bolstering resources and attention around the integrated safety and security of indigenous women, girls, and trans land and water defenders. As climate change threatens communities and livelihoods around the world, women's movements are leading critical work to sustain the planet and our precious resources for generations to come. Women, girls, and trans people are developing and creating climate resilience strategies to adapt to the realities of climate change, while advocating for laws and policies that respond effectively and push back against damaging practices.
As we mark Earth Day on April 22nd, join us to share the voices of women, girls, and trans climate warriors fighting for justice, land, water, livelihoods, and dignity—fearlessly working to save the planet from the patriarchy every day.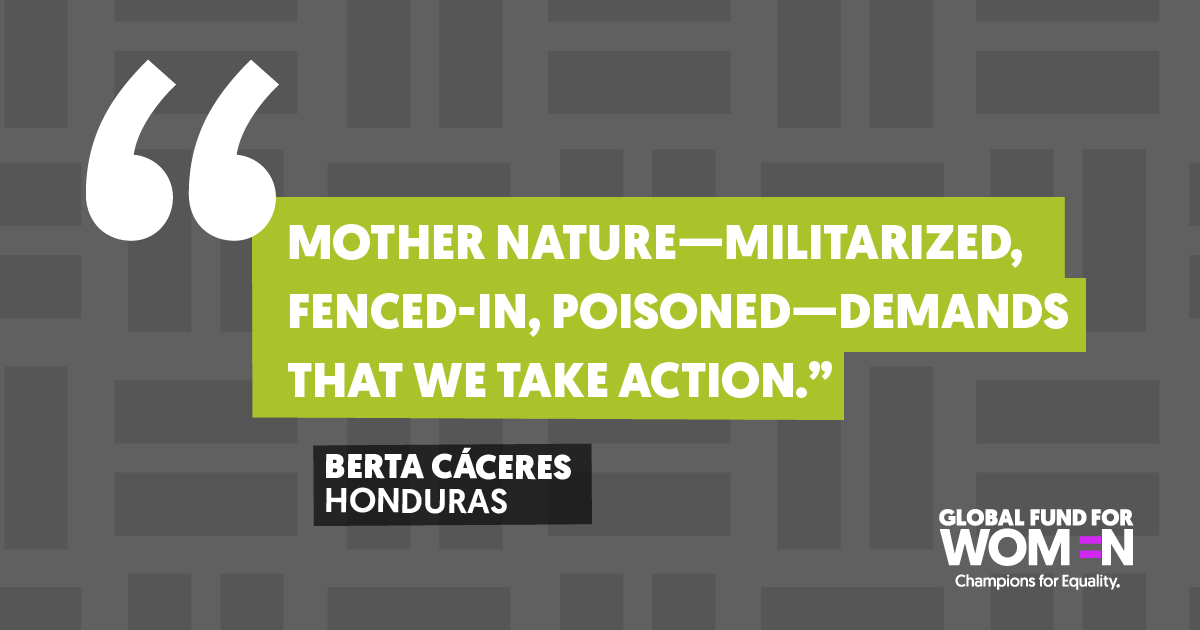 "Mother Nature—militarized, fenced-in, poisoned—demands that we take action." — Berta Cáceres, leading indigenous and environmental activist in Honduras, who was assassinated in her home in March 2016 for her activism to protect indigenous lands from a hydroelectric project.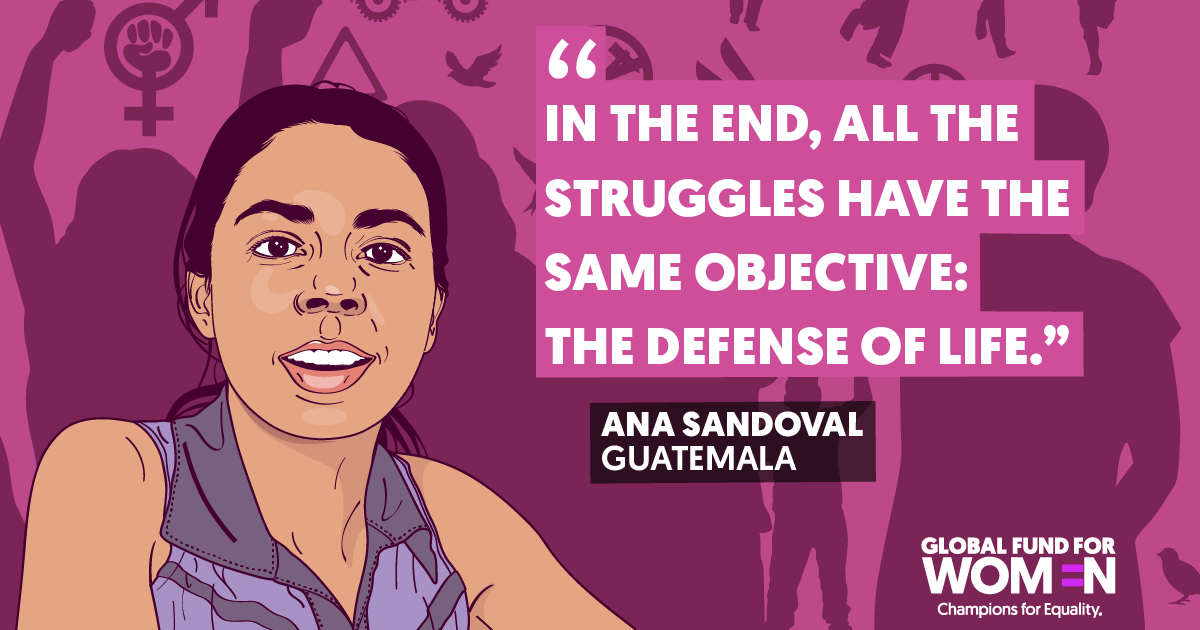 "In the end, all the struggles have the same objective: the defense of life. That is the most important, no matter where we are or what the specific goal of each fight is." — Ana Sandoval, land defender and co-founder of grantee partner Communities in Peaceful Resistance "La Puya", working to resist dangerous mining megaprojects in her community in Guatemala.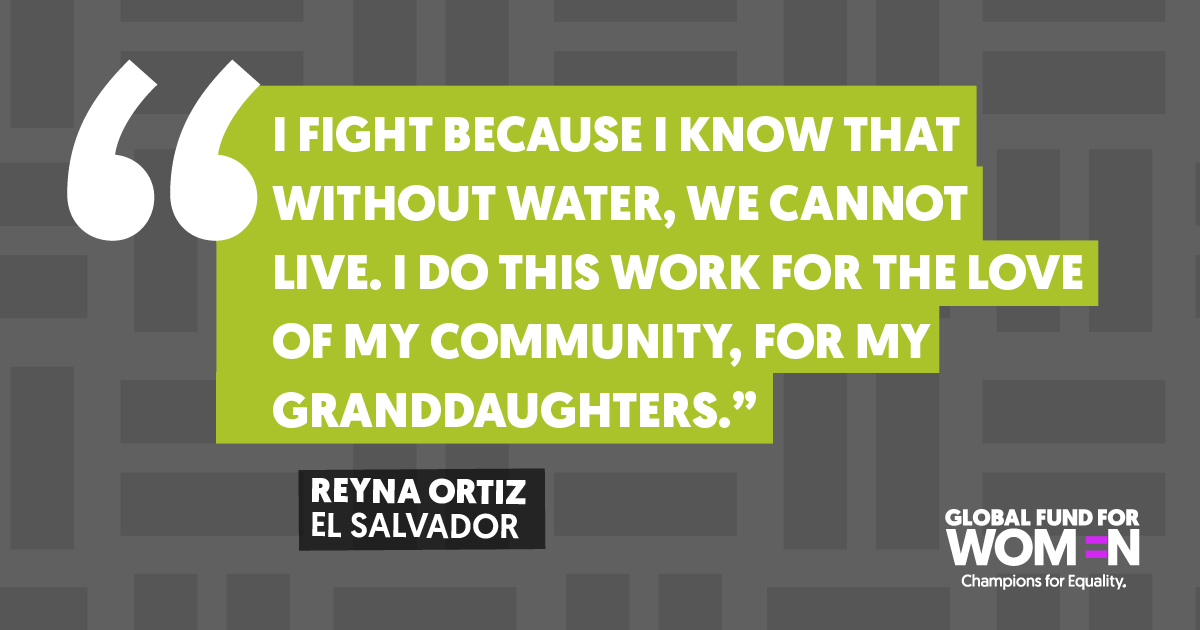 "I fight because I know that without water, we cannot live. I do this work for the love of my community, for my granddaughters…so that they can live in a healthy world." — Reyna Ortiz, defender in El Salvador with grantee partner Movimiento de Mujeres de Santo Tomas.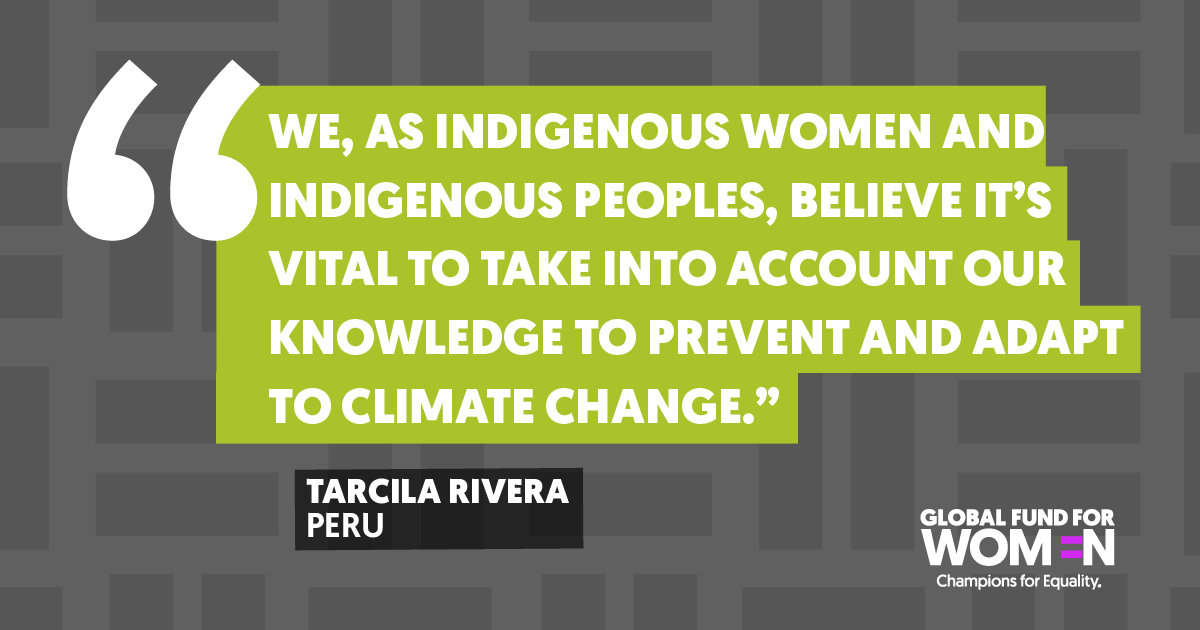 "We, as indigenous women and indigenous peoples, believe it's vital to take into account our knowledge to prevent and adapt to climate change, because the communities are the ones who know how." — Tarcila Rivera, advisor in Peru and a Quechuan activist working with grantee partner the Center for Indigenous Cultures of Peru (CHIRAPAQ).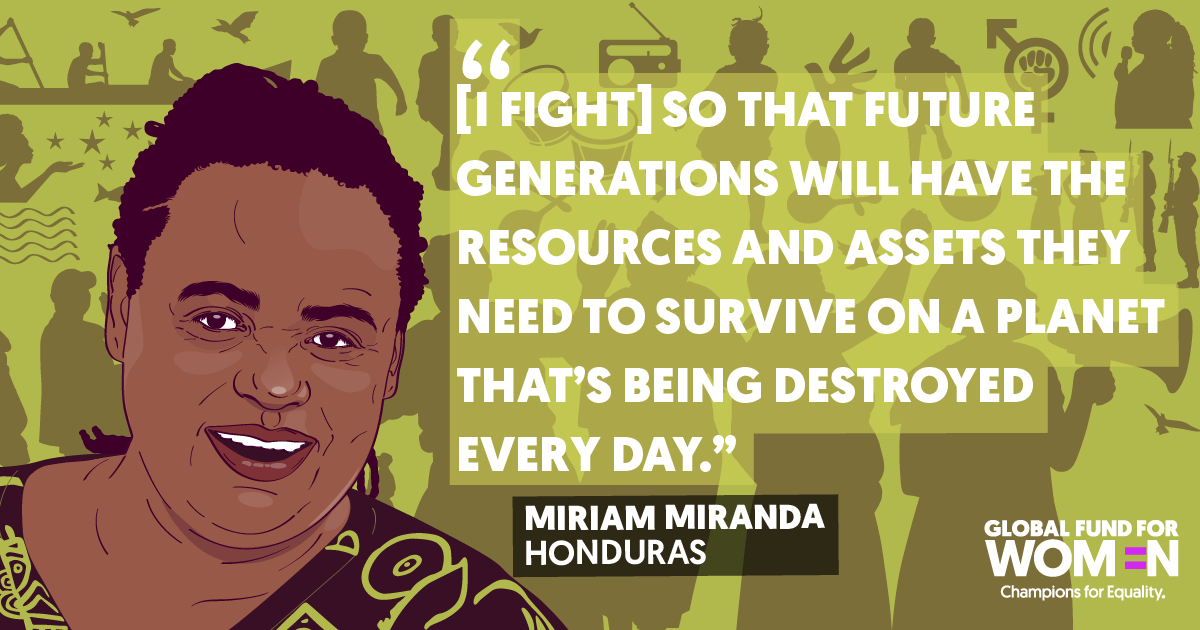 "[I fight] so that future generations will have the resources and assets they need to survive on a planet that's being destroyed every day." — Miriam Miranda, a leader of the Black Fraternal Organization of Honduras (OFRANEH), which defends indigenous land rights and natural resources.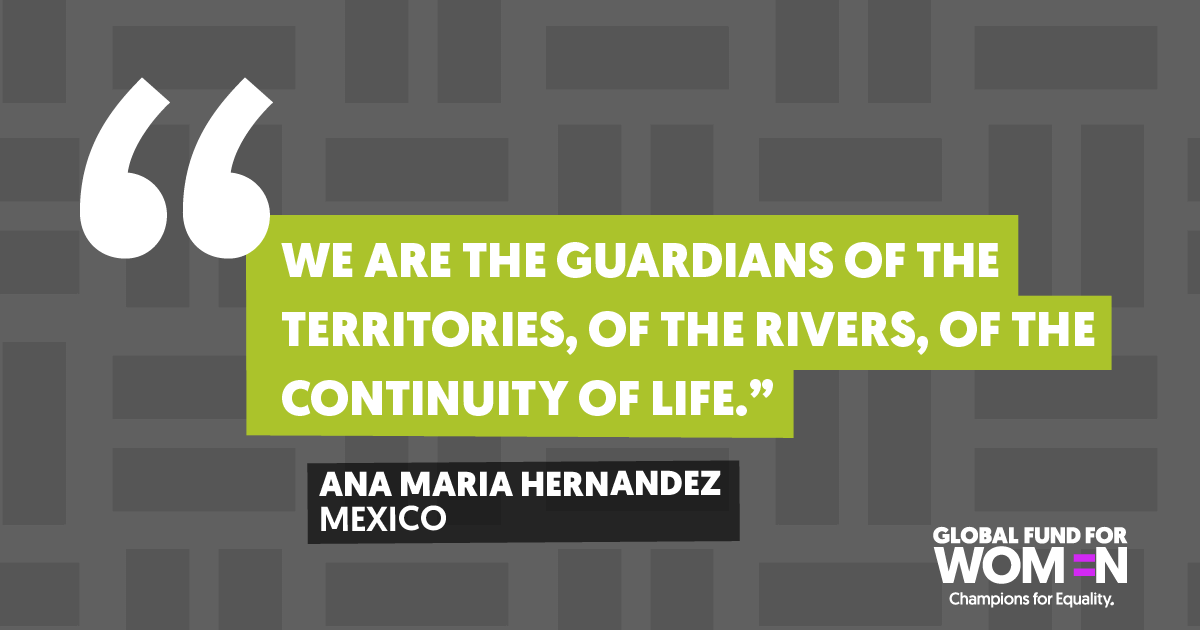 "The territory is our body. It is also the location of the natural resources and social wealth of our communities. We are the guardians of the territories, of the rivers, of the continuity of life. We understand the cycles of the moon, the spirituality of grandmothers, and the secrets of all the rituals of our communities. So when a corporation comes in and tries to destroy that social fabric and symbols of the community, the damage done is very deep. We are there to prevent this. Women defenders are making a lot of contributions and often they are not recognized." — Ana Maria Hernandez, land defender and director of grantee partner Consortio Oaxaca, a coalition of feminist activists in Mexico.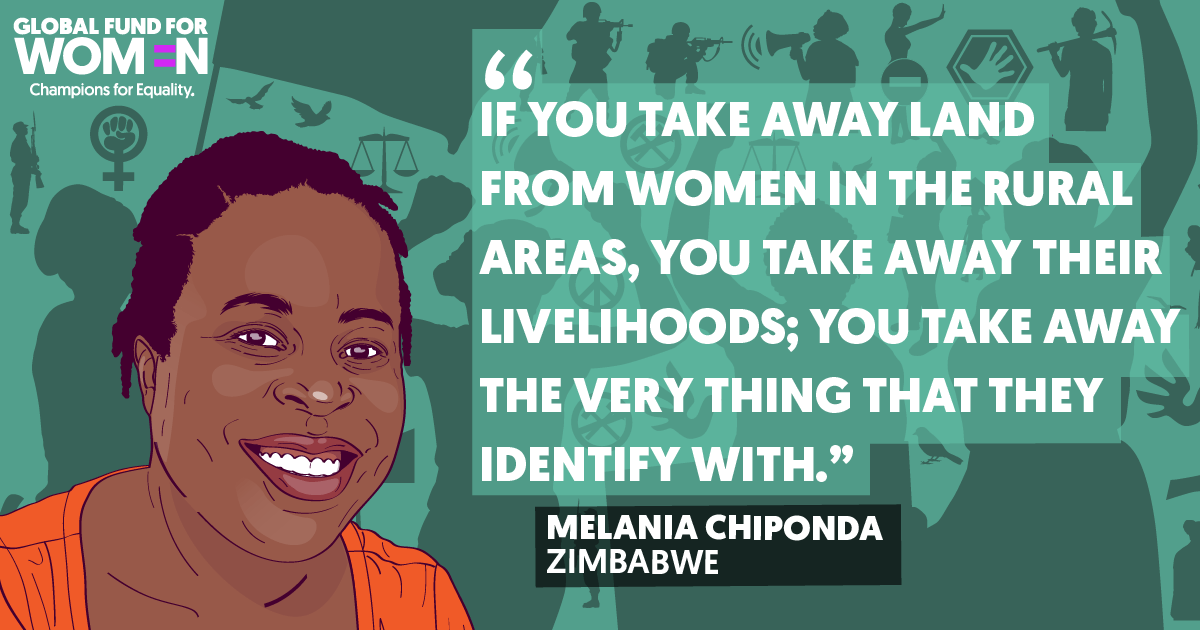 "If you take away land from women in the rural areas, you take away their livelihoods; you take away the very thing that they identify with. We fight. Because we have nothing else to lose." — Melania Chiponda, land defender in Zimbabwe working with the WoMin African Gender Extractives Alliance.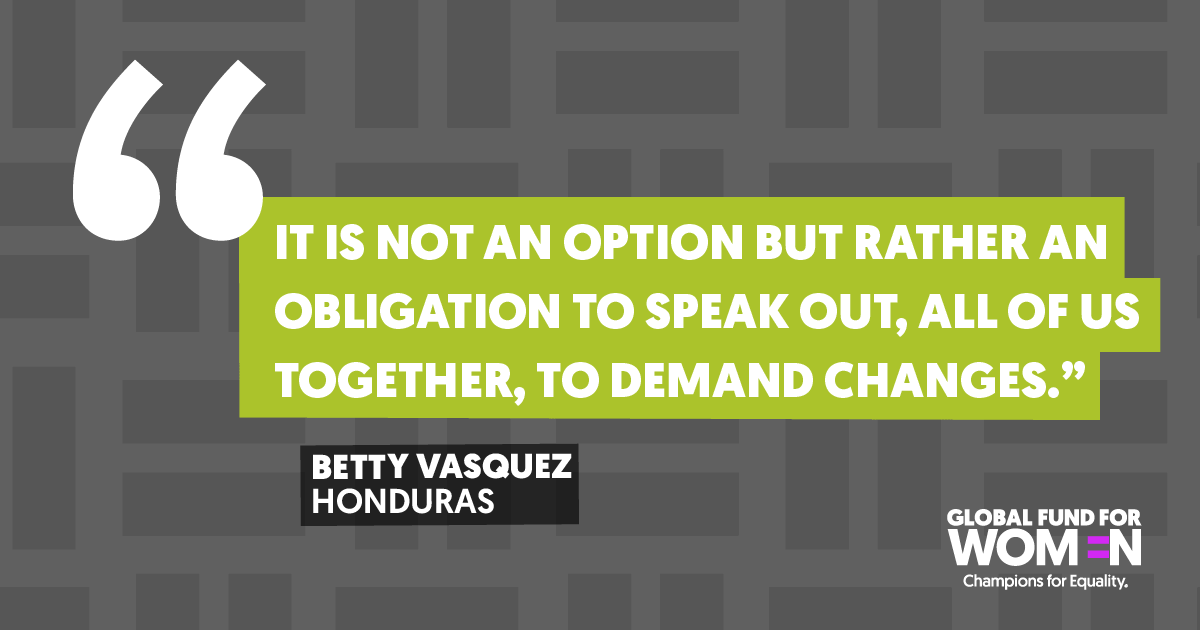 "It is not an option but rather an obligation to speak out, all of us together, to demand changes. I do not imagine my life without my activism. It is my conviction to do it and it makes me want to live." — Betty Vasquez, land defender working with grantee partner Centro de Derechos de Mujeres in Honduras.