Every year we celebrate International Women's Day on March 8th. But for us at Global Fund for Women, every day is International Women's Day—because women are fierce leaders and changemakers every day. We're celebrating by featuring eight of the countless women from around the world who are courageously fighting to advance gender equality.
Meet our FIERCE 8 FOR MARCH 8th and share their inspiring quotes with the fierce women in your lives.
ROSE, 45, Papua New Guinea
Rose's husband abused her for almost 20 years of their marriage. After decades of emotional and physical suffering, Rose took her husband to court and won her case against him. He was fined for his abuses and warned to stop his violent behavior. This victory empowered Rose, and she now helps other women in Papua New Guinea in similar circumstances win their right to freedom from violence. Rose escorts women to court, providing moral and legal support for women testifying in cases of domestic violence and polygamy. In these situations, Rose often finds herself face-to-face with a woman's abuser, and she stands up to him on her behalf.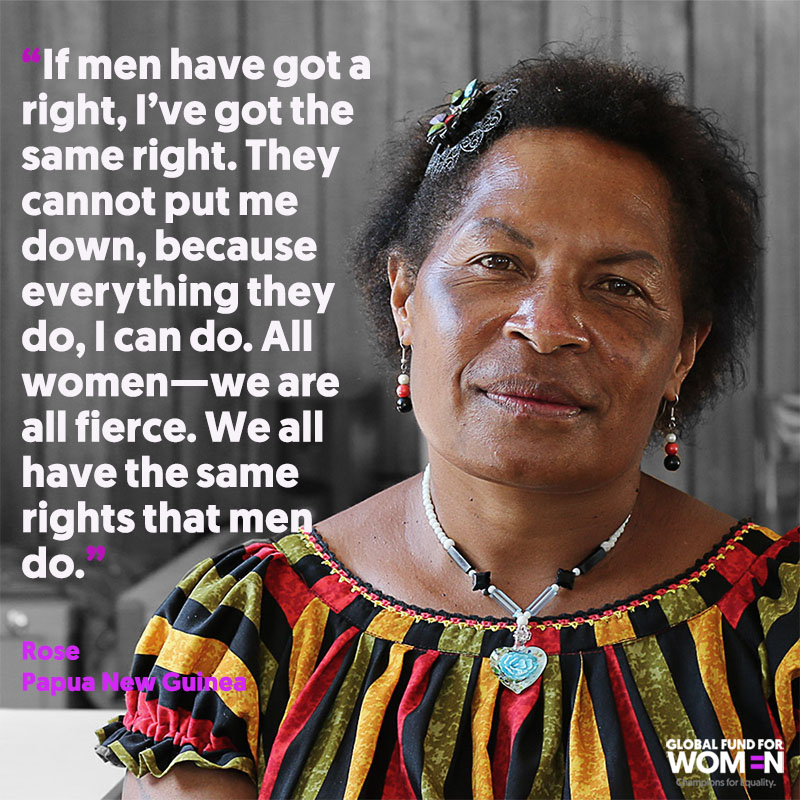 CHRISTINE, 62, Uganda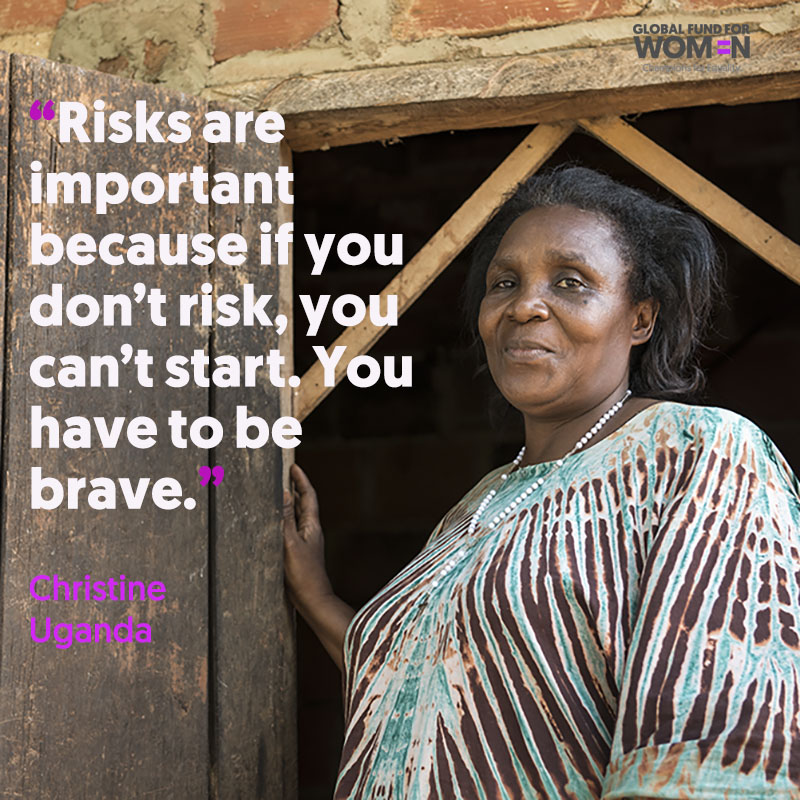 Seventeen years ago, Christine was unemployed and she was unable to send three of her eight children to school because her husband was unemployed as well. After becoming connected with Global Fund for Women grantee partner Ntulume Village Women's Development Association (NVIWODA) which promotes economic empowerment of grass-roots women, Christine started a wine-making business, which quickly grew and allowed her to expand into other markets, including farming. Now, Christine is a leading entrepreneur in her village and the main breadwinner in her family. She hopes to expand her business and help to empower more women, both in their work and independence.
PERLA, 50, Philippines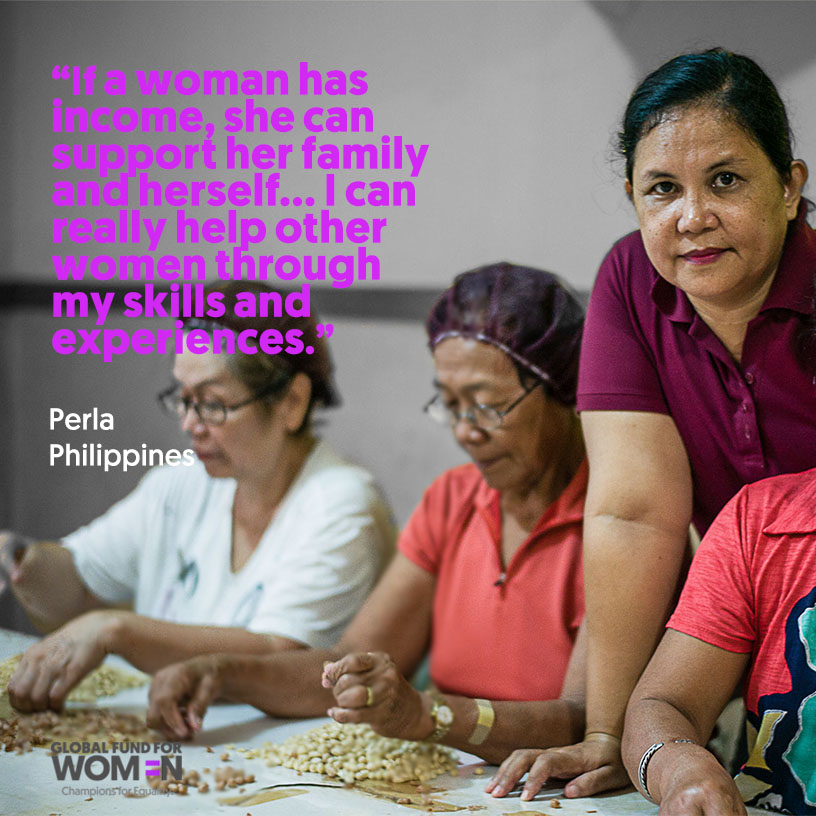 When Perla first started her small business selling roasted peanuts based on a special recipe from her grandmother, she didn't know anything about business planning or managing finances—she just knew she needed to earn money, because her husband had lost his job. With the help of Global Fund for Women grantee partner Unlad Kabayan Migrant Services Foundation, which has kickstarted more than a thousand micro and small enterprises empowering thousands of Filipina women, Perla learned to grow and manage her own business. She now has a thriving business, fully supports her family, and shares her experience and lessons in being an entrepreneur with other women. Perla wants all women to be empowered, have job skills, and know the importance of economic independence.
WASNA, 24, Iraq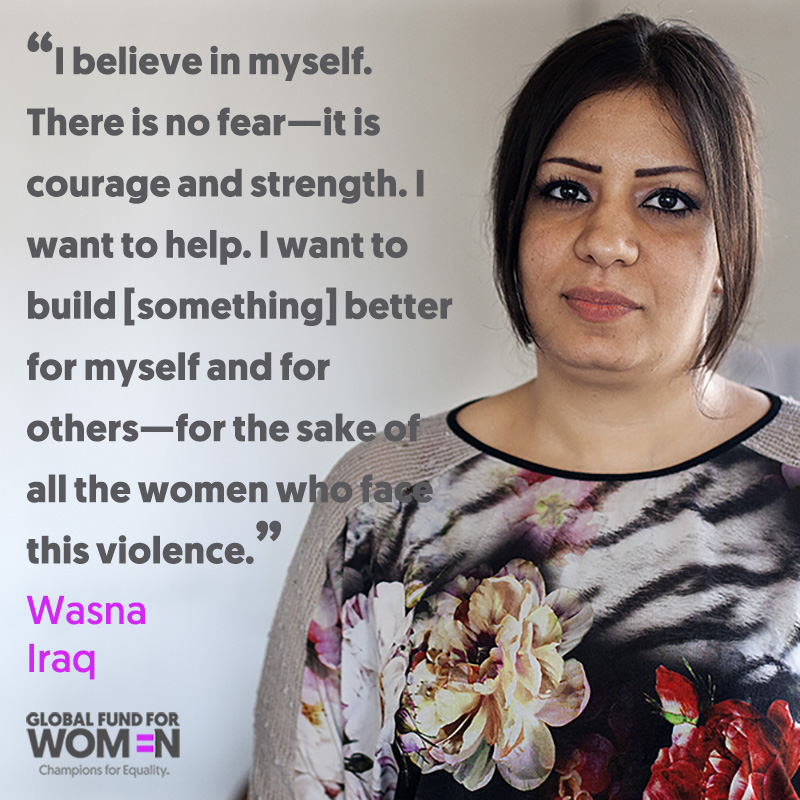 Wasna is a 24-year-old mother of three. After being abused for years by her husband and trying several times to formally divorce him—a request that was denied by the local courts—she left him. She made the journey from Baghdad to Kurdistan, where she connected with Global Fund for Women grantee partner Asuda: Combating Violence Against Women, which gave her shelter and supported her as she began to recover from her trauma. Wasna received critical legal support for her fight for a formal divorce and custody of her children. Now she wants to help protect other women like her in Iraq against violence and raise awareness about women's human rights.
CYNTHIA, 19, Kenya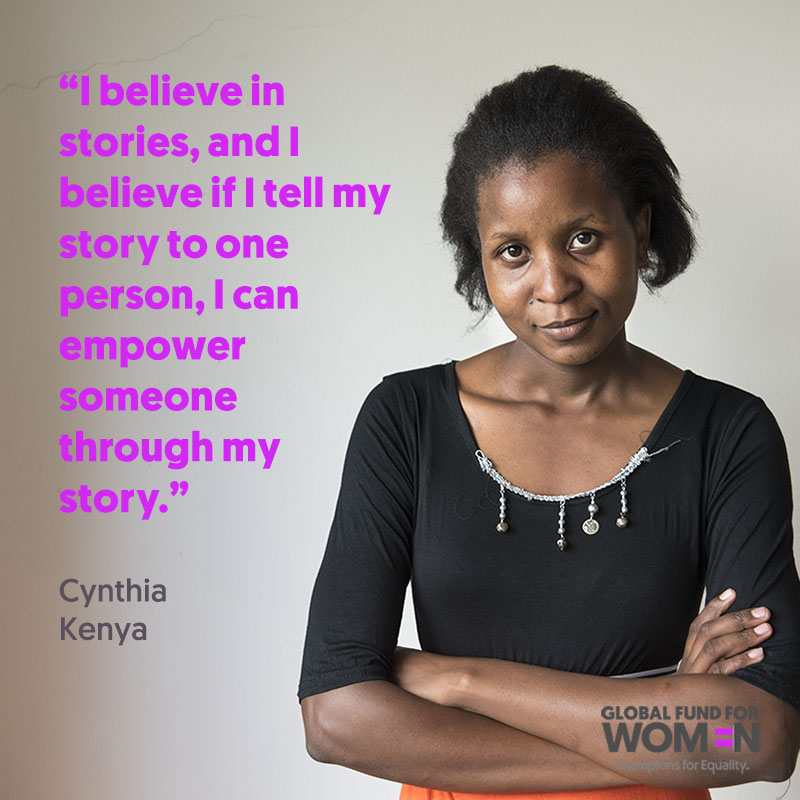 When Cynthia was 11 years old, she lost her mom to HIV/AIDS and went to live with her grandparents in the small village of Nandi, taking care of her brother and their household all while going to school. Though she loved school, Cynthia was often overburdened by chores at home and received a C-average. She was encouraged to stay at home and focus on her housework because she's a girl "and education doesn't matter." Once she became involved with Global Fund for Women grantee partner Akili Dada, everything changed. Cynthia rose to be a top student—graduating high school with an A-average—, learned about women's human rights, and is now a passionate advocate for gender equality. Cynthia has created a youth program that brings role models from Nairobi to her hometown of Nandi so that other kids can see examples of positive role models and hear success stories to inspire them to do well in school and follow their dreams.
NELA, 55, Croatia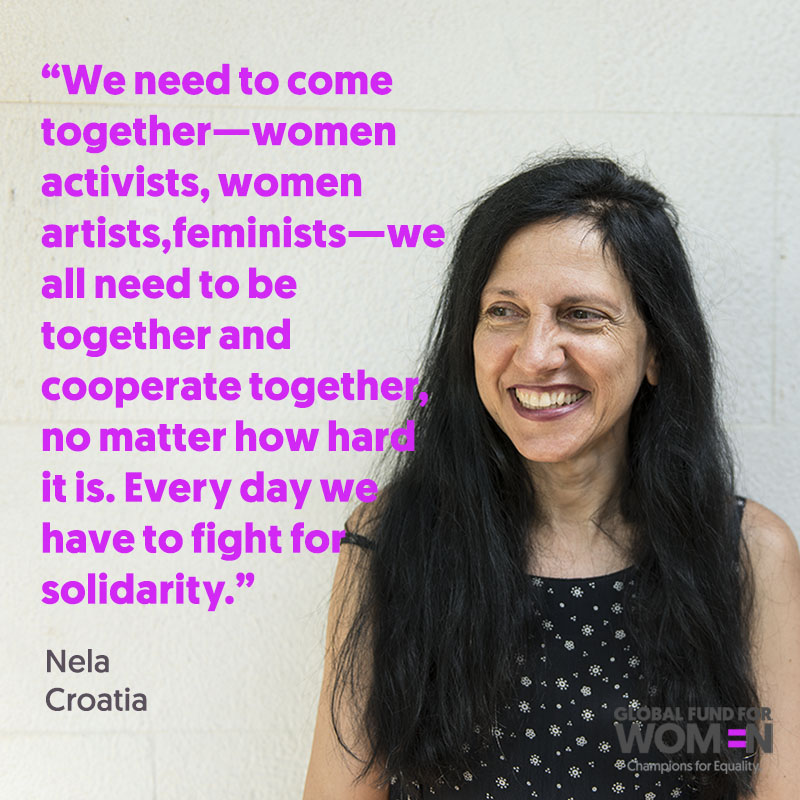 Nela co-founded the Centre for Women War Victims (ROSA) in Croatia in 1992 during the Bosnian war, when rape was used as a weapon to terrorize communities and intimidate women. Now, more than 20 years later, women survivors of rape are still healing from the trauma and stigma of their experiences. ROSA provides a safe space to share stories and meet other survivors, as well as legal services and psychological and medical counseling sessions led by other survivors of gender-based violence. Earlier this year, the Croatian parliament passed the first law in the country recognizing rape as a war crime, which will compensate war rape survivors with a monthly stipend and access to free counseling, legal assistance, and medical aid—a major step toward justice, due in large part to Nela's advocacy work.
AMINA, 26, Democratic Republic of Congo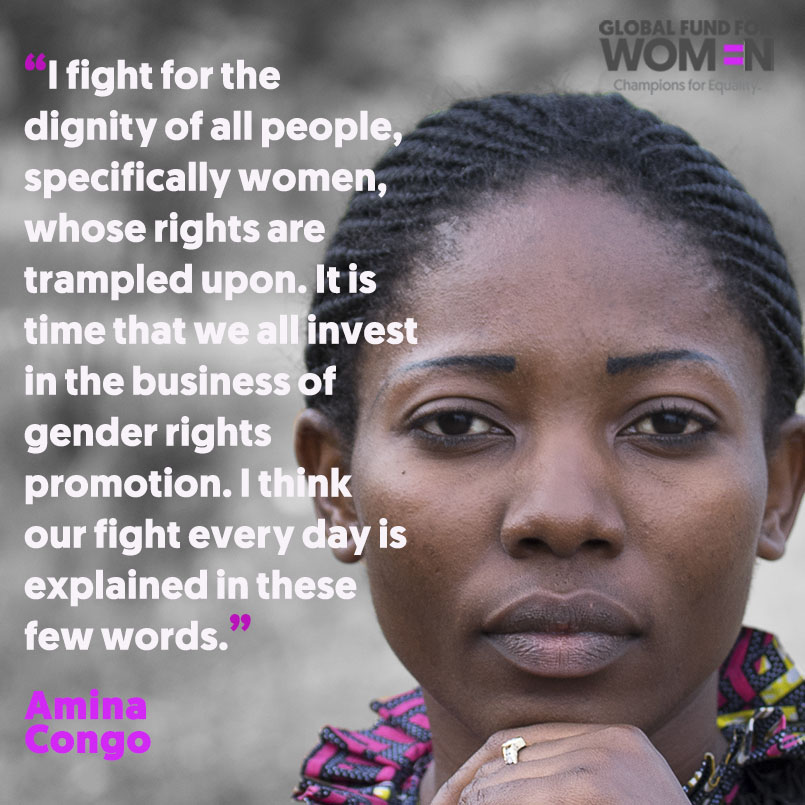 Amina is an unapologetic advocate for women's human rights, focused on ending gender-based violence and ensuring women are equal participants in peace-building, decision-making, and politics—two major issues in the Democratic Republic of Congo. Through her work with Global Fund for Women grantee partner Solidarity of Women Activists in Defense of Human Rights, a women's group dedicated to the defense and promotion of the rights of vulnerable women and girls, Amina leads local community workshops with men and women that raise awareness about women's human rights, empowering survivors of sexual violence, and more. She believes that women's human rights are not just an issue for women, but for everyone, and she hopes to lead others to feel the same.
RUFA, 45, India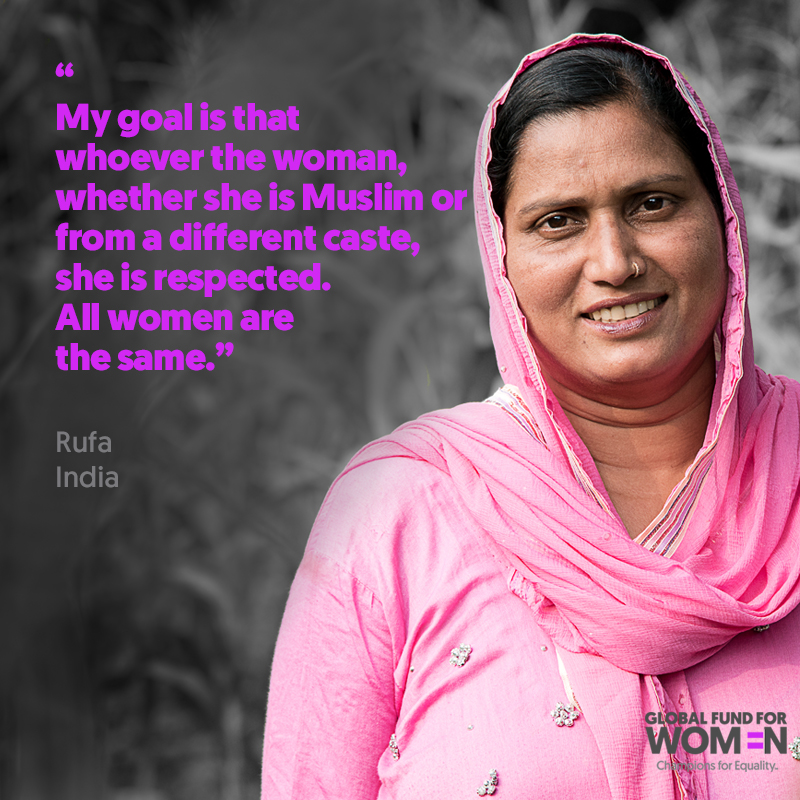 Rufa grew up in a conservative Muslim family, was never sent to school, and didn't learn to read or write. She said she was "scared of everything" but with the encouragement of Global Fund for Women grantee partner Disha, and her husband, she learned how to read and write and completed fifth grade. With leadership trainings, Rufa is now a well-recognized figure in Dhaki village for the rights of women and girls—determined to advocate for all women regardless of their religious or cultural background. After unanimously winning an election to become the leader of the women's committee in her village, Rufa had toilets installed for 50 women and helped over 100 women get jobs, and she's now working with women who have experienced domestic violence.
$5,000 in 24 hours? Challenge Accepted!
This International Women's Day, help us raise $5,000 in 24 hours to support activists around the world?