Top 10 moments for women's rights in 2017
Posted on December 7, 2017
2017 has been quite a year. It was a year of resisting, of reckoning. It was a year of rollbacks and new challenges for women and girls in countless countries, from Egypt to the United States and Brazil. And it was a year of resilience and resistance on full display. As we look back on the past year, we are reminded of the undeniable power of women's movements—because when women and girls come together, they are stronger, more effective in driving sustainable change, and better able to resist injustice, fear, and hate.
Join us in celebrating just a few of Global Fund for Women's highlights for gender equality from the past year—including legal wins, major breakthroughs, and moments of resilience and strength. Let's carry forward this inspiration into 2018 to make women's movements more powerful than ever.
1. Rebuilding stronger after crisis, led by feminist movements
"There are women on the frontlines supporting rescue events, preparing food, distributing goods. The solidarity and mutual support is encouraging and is holding the city together in such harsh moments." – Global Fund for Women grantee partner in Mexico City
In September 2017, Mexico was struck by what is believed to have been the country's strongest earthquake in a century along the southern coast, leaving Oaxaca and Chiapas reeling. Two weeks later, a powerful quake left hundreds dead and a trail of destruction in Mexico City and beyond. In the wake of this devastation, women's leadership and resilience was on full display. Semillas, Mexico's women's fund which has been building a powerful movement of grassroots women's groups across the country for 25 years, immediately began assessing the needs of women and girls. Semillas developed a reconstruction and rebuilding campaign, that women leaders throughout the country will work together to plan and implement, to address immediate and long-term needs, spearhead recovery, and rebuild Mexico in a more sustainable way.
Semillas is part of a global line of women's groups like Tewa—Nepal's women's fund which has been leading recovery and rebuilding with grassroots women's groups across the country after the 2015 earthquake—that are working to shift humanitarian assistance in the face of natural disaster to center a gendered lens, and integrate and advance women's rights. As has often been the case this year and for centuries before, feminists are shifting the conversation and working to create a better world for everyone.
2. Changing laws to advance women's rights in the Middle East
In August, Lebanon's Parliament repealed an archaic law that allowed men accused of rape to be exonerated and escape punishment if they married the individual they raped. This major legal win came just weeks after Jordan's Parliament voted to revoke the same law. And Tunisia did the same in July, as part of a broad new law outlawing violence against women. These major legal wins came after years of powerful advocacy and creative activism by women's movements in the region. Global Fund for Women's grantee partner Abaad, a women's rights group with deep roots in Lebanon, hung bloodied wedding dresses in Beirut's main promenade and put up billboards around the capital with a caption that read, in Arabic, "A white dress doesn't cover up rape." Abaad's founder and director Ghida Anani told the New York Times of the legal change: "It's the first step to changing the mind-set and traditions."
Now, the women's movements in Lebanon, Tunisia, and Jordan will continue their advocacy to ensure that these laws are effectively implemented and enforced.
3. Strengthening waves of young women leaders in South Asia
"A young woman leader should build solidarity and believe in sisterhood. She should have love inside her for humanity and the passion to grow a movement for the empowerment of women in every aspect." – Iffat Ara Arna, young woman leader working with Naripokkho in Bangladesh
This year, we kicked off a new initiative focused on strengthening young women leaders in South Asia. Having learned from the amazing young women's leadership initiatives created by our sister organizations around the world like the FRIDA Fund, we created the South Asia Young Women's Leadership and Mentoring initiative—a three-year innovative initiative in collaboration with our partner organization CREA and funded by the Kendeda Fund—aiming to support and strengthen the leadership of 30 young women in Bangladesh, India, and Nepal across their organizations, communities, and movements. This summer, the young women leaders and mentors all met for the first time for a transformative week of learning and growth while overlooking the scenic mountains of Kathmandu, Nepal.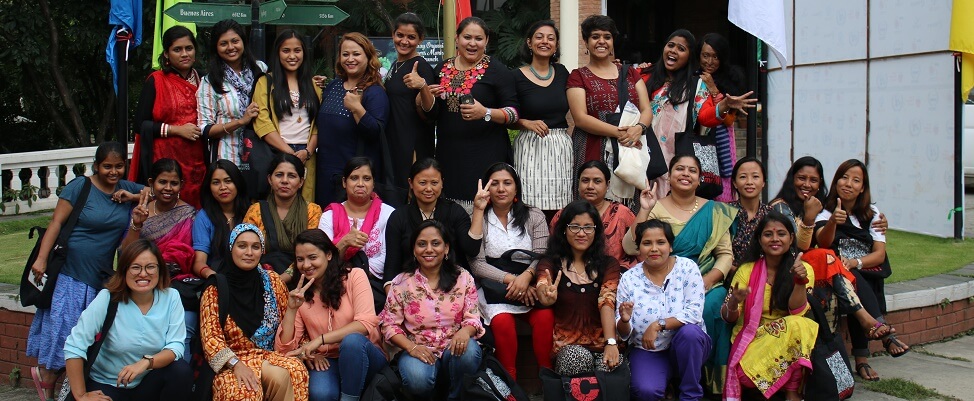 4. Embracing the power of women's funds
What do you get when you bring together individuals from women's funds, allies, and partners from around the world? Transformative learning, new ideas for funding and expanding, and a reinvigorated global commitment to building powerful women's movements for social change. Prospera, the International Network of Women's Funds, organized its X Biennial conference in Sri Lanka in October, bringing together representatives from its 27 women's fund members alongside allies and partners. Discussions focused on how best to strengthen women's movements and build resistance in the current context of closing of civil society space and threats against activism, and the role and mandate of women's funds was sharpened into focus. The result? An ever-heightened understanding of the impact of women's funds, and a renewed shared commitment to work together to build stronger women's movements.
5. Chile's women's movement drives historic new abortion law, while reproductive rights come under fire globally
At the end of August, Chile's Constitutional Tribunal voted to ease the country's total ban on abortion, passing legislation that legalizes abortion under three cases. At the heart of this legal victory is Chile's resilient women's movement and the many grassroots women's groups who consider this law to be one small yet critical step towards progress.
"We support this as a step," said Malfada Galdames, Regional Coordinator of Mujeres en Marcha Chile, a Global Fund for Women grantee partner in Chile. "As a movement, we want to demand abortion to be legal and free for all. We want each woman to be able to decide on her body."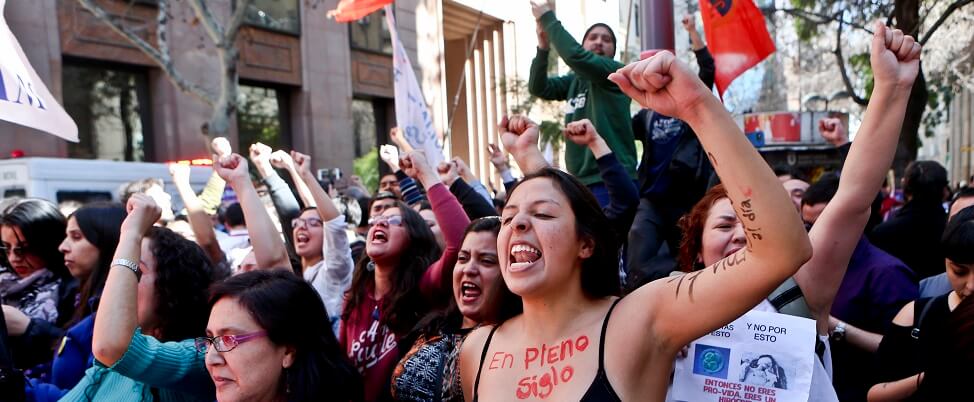 Globally, women's groups and movements have been working hard to advance sexual and reproductive health and rights despite rollbacks and challenges—including the Global Gag Rule, the damaging U.S. policy that the Trump administration reinstated and expanded to threaten all global health funding, with major implications for women around the world. But women's groups are leading the charge in resisting and advancing powerful movements for sexual and reproductive rights: we spotlight our grantee partners' work in Bodies + Rights = Power, highlighting current contexts and major issues in five countries.  
6. More women peacebuilders in Democratic Republic of Congo
This year we saw major achievements for women's leadership in peacebuilding in the Democratic Republic of Congo. Women's groups organized a Congolese Women's Forum for peace and equal political representation in September 2017. Just weeks later, 80 local women were included at the table alongside militant groups in talks in the Kasai region of DRC, which has been a hotbed of violence. Women made up close to 20% of those at the table—a major step forward, though much work remains to be done toward systemic change and equal representation.
Women are leading this charge to bring peace to DRC and throughout the Great Lakes Region of Africa. Global Fund for Women is one of the implementing partners of the Women's Platform for the Peace, Security, and Cooperation Framework, giving grants to women's groups in Burundi, DRC, Rwanda, and Uganda to implement local activities on peace, livelihoods, and women's rights.
Our goal for the Great Lakes region and other parts of the world? We know the difference it makes when women are involved in conflict resolution, and we believe the key to lasting peace is to recognize women's agency in peacebuilding and empower women as leaders in peace processes.
7. Mobilizing more resources for women's rights in the face of rollbacks
This year, more individuals and governments around the world stepped up to direct more resources to advance women's rights around the world. We're seeing feminist approaches to changing philanthropy in order to ensure more money is getting directly to grassroots women's groups and movements. For instance, Dutch minister Liliane Ploumen established She Decides to raise more money to fill gaps left by the U.S. administration's expanded Global Gag Rule. Canada announced the creation of its Feminist International Assistance Policy, focusing on allocating millions of Canadian aid dollars toward advancing gender equality and empowering women and girls around the world. And the Gates Foundation is now recognizing women's funds globally as key to recognizing their philanthropic goals—a significant step to getting more much-needed funding into the hands of grassroots women's groups globally.
These are just a few of the examples of how feminists are shifting philanthropy and influencing policies and practices to mobilize more resources. This summer, Global Fund for Women joined our partners at the African Women's Development Fund and MATCH International Fund in Canada to influence how and where Canada's assistance is spent in order to ensure it is getting to women-led, grassroots groups who need it most. And we'll continue joining our fellow women's funds and sister organizations to influence resources and mobilize even more funding to women's movements around the world.
8. Supporting powerful feminist movements in Latin America at the Encuentro Feminista
In November 2017, the Encuentro Feminista took place in Uruguay—a critical space for feminist activists and women's movement actors to come together, and for regional and global learning and sharing. Women leaders from Global Fund for Women's grantee partners working to advance the movement for safe and legal abortion across Latin America, such as Lilian Abracinskas from Mujer y Salud in Uruguay and Marta Alanis from Catholics for Choice in Argentina, created and led a workshop on next steps for the movement. And land defenders who have been on the frontlines working to defend human rights and protect indigenous communities' livelihoods and environments, led a workshop and created a safe space for exchanging learnings and developing new strategies.
For three days, incredible women's movement leaders celebrated, learned, and found strength and solidarity to continue their vital work of defending rights.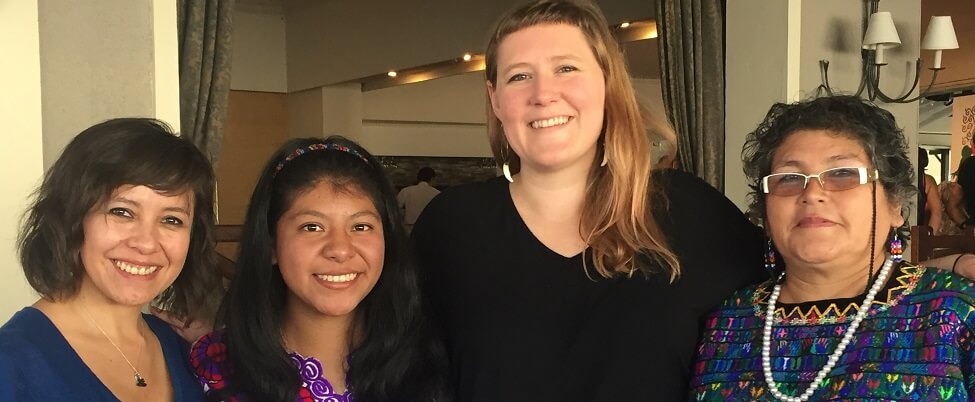 9. Coming together to #BuildMovementsNotWalls through Women's Marches across the globe
On January 21, 2017, thousands of individuals committed to equality and human rights took to the streets in cities around the world for a Women's March in a major global moment. Folks mobilized to raise their voices on the issues most important to them including anti-discrimination, LGBTQI rights, reproductive rights, religious freedoms, refugee rights, and more. People everywhere responded to our call to Build Movements Not Walls, inspired by the resilience of women's movements around the world and in response to the new U.S. administration's direction on women's rights. Throughout the year, we saw the resistance continue to grow responding to the rise of conservatism and harmful anti-woman policies in countless countries. Through global solidarity, advocacy, and activism, women's movements continue to work toward a better tomorrow in the face of these obstacles.
10. Demanding justice for Berta, while carrying forward her fight
Eight people were arrested this year for their involvement in Berta Cáceres's murder in March 2016, though the investigation and push for justice continues as all those responsible for her death have not been charged and deep webs of corruption and cover-ups remain uncovered by an ongoing independent investigation. Berta was a leading indigenous and environmental activist, who fought for over two decades to protect indigenous lands in Honduras from a hydroelectric project, and was one of the bold leaders of a strong women's movement to defend land and advance human rights. This Honduran movement has been at the forefront of leading the call to demand "Justice for Berta", applying international pressure, rallying solidarity and support, and initiating the independent investigation into Cáceres's murder.
They are pushing harder than ever to carry forward her fight and protect indigenous land, while threats and challenges remain against women human rights defenders. They're continuing to raise international voice and visibility to demand that those responsible for Cáceres's murder are held accountable—as there is too often impunity for perpetrators of crimes against women. These bold activists in Honduras are leading the charge to fight impunity and push against the normalization of violence against women human rights defenders. And they are not giving up.
As we look back at these major breakthroughs for women's rights around the world, we are determined not to go backwards, but to build on these gains. We must draw from the resilience of women's movements around the world to move the needle on gender equality and stand up and fight back in the face of harassment, hate, and rollbacks in rights. Let's continue to work together to strengthen women's movements that are thriving, unified, and fearless across borders—so that at the end of 2018, we have even more to celebrate.
HELP AMPLIFY THE VOICES WHO CHANGE OUR WORLD
Global Fund for Women supports women-led groups who are demanding rights in their own communities. For Women's History Month, use your voice to support courageous activists shaping our future.