DELIVERING LASTING EQUALITY TOGETHER
We believe in the power of women to change their own lives – and the world around them – for the better. When women organize and join together, they can create the lasting shifts in power, opportunity, laws, and culture that are necessary to achieve gender equality.
Global Fund for Women stands behind movements for women's human rights all over the world. Our global network of over 2,000 advisors and partners helps us find, fund, and strengthen groups who work with the most marginalized women in the world. We give funding that helps provide for the fundamental things: rent, computers, staffing, travel, training, security, and electricity. We then help them connect to other donors, as well as local or national women's groups. These connections enable groups to share, learn, and rally together to strengthen movements for women's rights.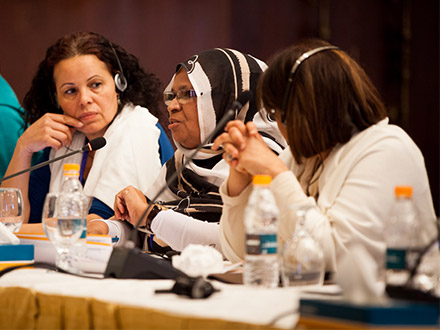 A powerful voice is essential to momentum and support for gender equality. We shine a spotlight on the urgent issues, ensuring women and girls are heard loud and clear. We share their untold stories to inspire and activate new advocates and donors.
We know that we're infinitely stronger when individual women and grass-roots organizations connect with donors and activists from across the world. We foster a vibrant and diverse global network, with a shared passion for winning equal rights for women worldwide.
By funding, connecting, and amplifying critical work for women's rights, we help sustain vibrant women's rights movements that can deliver permanent change.
Download our strategic plan to learn more about our approach over the next five years.

Disruptors: Case studies
We have a long history of supporting women who are disrupting the status quo and building powerful social movements for women's rights. In Disruptors, we spotlight five groups with case studies to show how our approach helped them create meaningful and lasting change. Explore the case studies »
Values
Our values underpin not only the work that we do, but how we do that work. We aspire to be bold, collaborative, curious and authentic. Read more about our values »
Collaborations
The fight for women's rights depends on strong partnerships within and across sectors. We're proud to partner with NGOs, foundations, governments, and corporations in working to achieve gender equality. Read more about our partnerships and initiatives »
Women's funds
We're proud of our role in increasing regional and national funding for women's rights. We have helped seed, strengthen, support, and partner with many other national and regional funds for women's human rights. We gladly act as a fiscal sponsor to women's funds. Read more about our fiscal sponsorship of women's funds »
In-story photo by Bowerbird Photography.