EQUALITY FOR MILLIONS OF WOMEN AND GIRLS
Since 1987, Global Fund for Women has invested in nearly 5,000 women-led groups across 175 countries, helping win rights for millions of women and girls.
During our 30-plus year history, we've supported feminist movements and grassroots organizers to end civil wars, get female Presidents elected, and secure laws giving new protection to millions. We started the first girls' global education fund and ignited important movements to bring an end to trafficking and to create workers' rights. We've also helped to seed and grow over two dozen women's funds all around the world. Explore #Disruptors for case studies that illuminate this history of investing in women challenging the status quo to drive bigger gains for gender equality.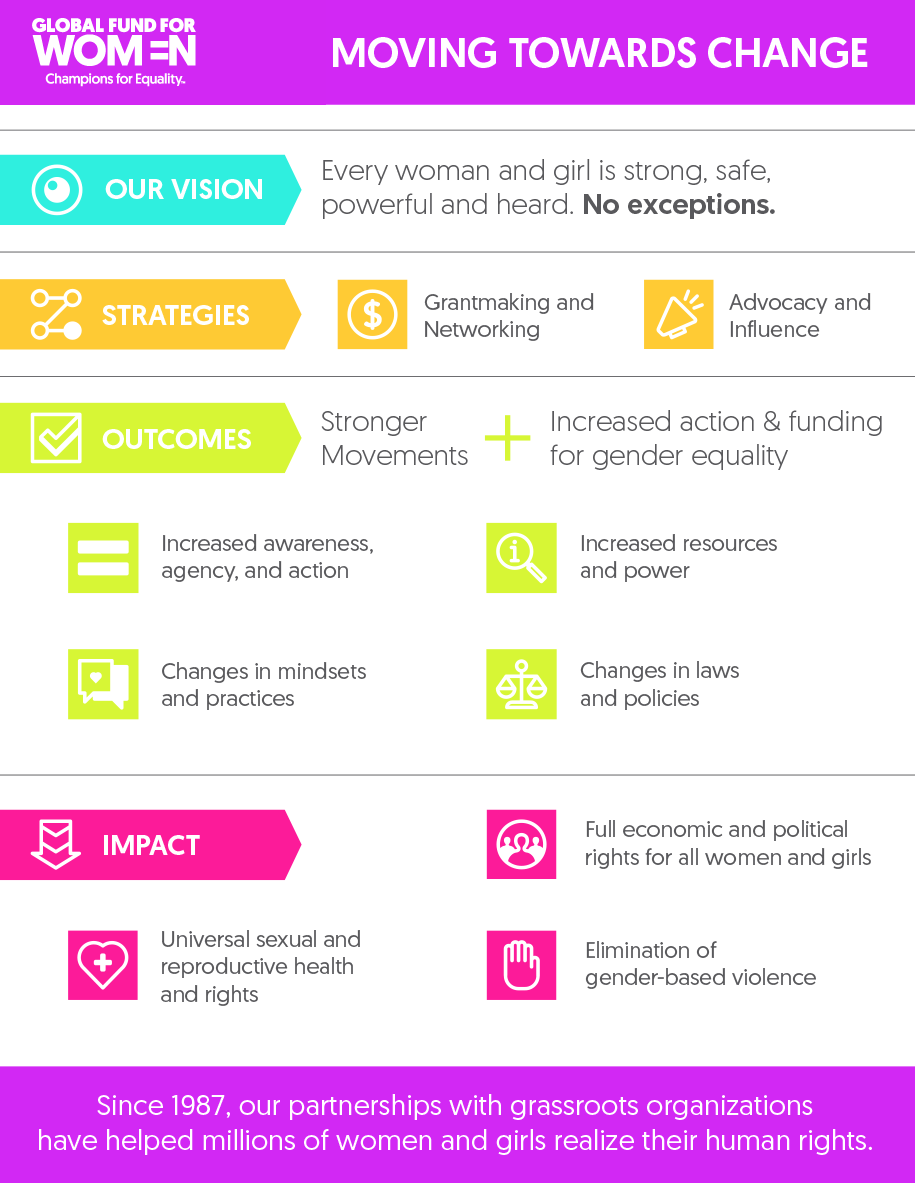 Grantmaking Impact
A 2013 evaluation by Stanford University and SVT Group found that Global Fund for Women had seeded, strengthened, and propelled work for women's rights all over the world:
Seeding – we were the first institutional funder to more than 700 organizations and a key early funder for hundreds more.
Strengthening – our flexible funding has been essential to building small organizations, especially those in conflict areas such as the Democratic Republic of Congo (DRC), Colombia, and the former Yugoslavia.
Propelling movements – our work has played an important role in sustaining, linking, and mobilizing the following movements: Gender-Based Violence; Reproductive Rights; LGBTI Rights; Domestic Worker Rights; Ending Sex Trafficking; Disability Rights; the Rights of Sex Workers; Indigenous and Rural Women's Rights; and Anti-war/Peace-building. These movements have achieved lasting and measurable gains – for example, we supported women's groups to change or introduce laws on gender-based violence in 25 countries, providing protection for over 1.05 billion women and girls.
Through our impact framework, we are able to carefully evaluate our work, learn from the experiences of our grantee partners, and constantly improve what we do.
Watch our video about how we measure impact.