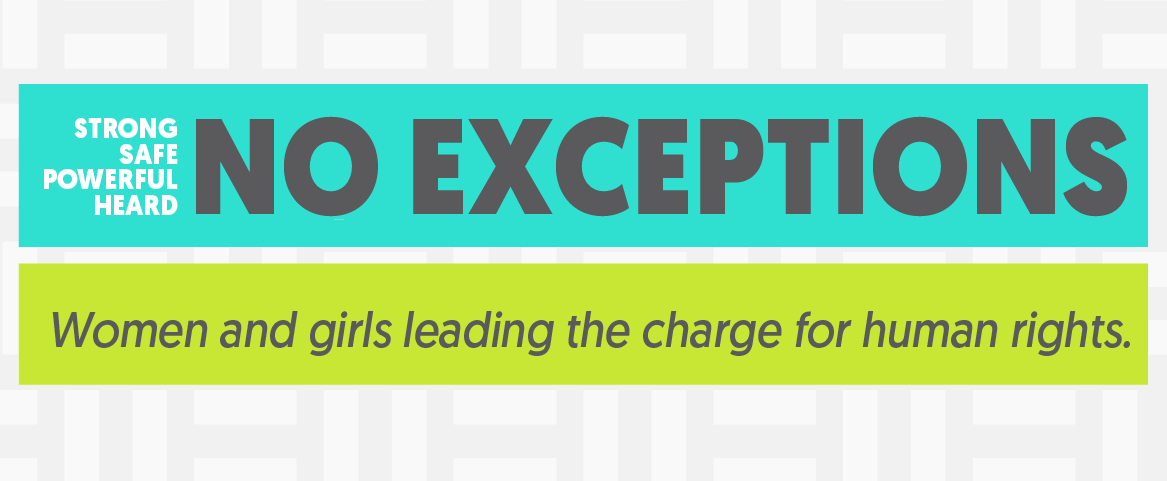 Global Fund for Women exists to support grassroots women's groups who work every day to win rights for every woman, girl, and gender non-conforming person—no exceptions.

Our grantee partners are women-led organizations working directly in their communities. They know best what they need most, and we trust their decisions when it comes to making the biggest difference for gender equality. In No Exceptions: Human Rights for Women and Girls, you'll hear directly from our grantee partners about how they're changing the world.
The groups we work with focus on achieving sexual and reproductive health and rights, freedom from violence, economic justice, and leadership opportunities for all. These are some of the most critical building blocks for women's human rights. When a woman has these rights, she can be strong, safe, powerful, and heard.
It's been more than 70 years since the UN adopted the Universal Declaration of Human Rights, which provided the beginnings of a roadmap for making human rights a reality for all—including women. As established in the Sustainable Development Goals, Global Fund for Women believes in leaving no one behind in the effort to advance human rights and achieve gender equality. That means ensuring rights for every woman, girl, and gender non-conforming person. No exceptions.
In these stories, you'll learn more about how our grantee partners are leading these movements for change, and making rights a reality for the women, girls, and gender non-conforming people in their communities. You'll also hear about the challenges they are facing, and what the road ahead looks like in their struggle for equal justice and human rights for all.