The Portal Series: Reflections on Feminist Leadership Through Crisis with Sophia Andary
Posted on November 17, 2020
As the COVID-19 pandemic rages on in the U.S. and the rest of the world, there can be no doubt that we are in a moment of crisis. As Arundhati Roy writes, "Historically, pandemics have forced humans to break with the past and imagine their world anew. This one is no different. It is a portal—a gateway between this world and the next." This moment of crisis is also a time when feminist leaders are stepping into their power and purpose. We were particularly interested in understanding what new practices leaders are putting in place for themselves and their teams, and which of these they think will be permanent vs. transitory. So—we asked them. Here are their answers.
How have you led your organization, community, constituency through this crisis?
Sophia Andary, co-Lead of San Francisco's Women's March and Commissioner on the Status of Women, San Francisco: During shelter in place we (and I) didn't know what to expect. We had to be OK with not doing, just stopping for a bit and allowing ourselves to figure out our strategy.
We saw that amplifying the right voices was important, getting people educated, basically using ourselves as a conduit for emergency response.
Which of these practices or principles do you think have most significantly unmasked or reduced inequities in your organization, community, or constituency? Why?
Because we are in a virtual environment, what's great is that you can do virtual events. The downside of that is that it really shows you the inequity of people who don't have access to the internet or computers. Think about online schooling. This is such an issue for so many folks in our organization; schools are renting computers to students. What about school districts that don't have these capabilities?
I definitely see that women are more impacted by COVID. Domestic violence is on the rise; people are getting kicked out of their houses; losing their jobs. COVID really shines a light on the systemic inequities in the country.
It's also been revealing to see what, as a society, we value or don't value. Half the stuff you have, you don't really need. I hike more, walk more, people are riding their bikes on the streets because of closures. It's really shown what kind of society we COULD be if we weren't on the move and online so much. It really begs the question of why we don't value things like childcare and education more.
How have you changed as a leader through this crisis? What have you learned about yourself as you spoke up, prioritized, or taken risks?
Being OK with not doing, this is a BIG one. And not apologizing for it. I'm someone who usually says yes, but taking that step back and allowing myself to breathe and re-evaluate.
Mental health; for me personally, I have needed to consciously invest in mental health, unlearn, and de-stigmatize the idea of mental health as a Middle Eastern woman.
Overall, knowing that I can take a step back and still be a leader.
About Sophia Andary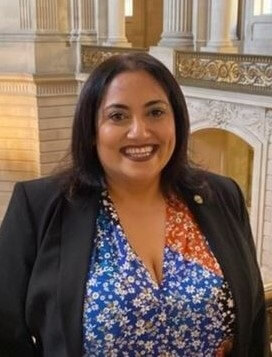 Sophia Andary is a first-generation Lebanese-American activist, organizer, and analyst. Her experience living through the civil war in Lebanon during early childhood shaped her worldview and passion for bridging the divide among diverse perspectives. She is one of the founding members of Women's March San Francisco and was unanimously voted to chair the organization following its inaugural launch and has remained co-chair since then. Through leading by example, she has helped build one of the strongest and most diverse Women's March chapters in the country, building alliance with and earning respect from various San Francisco communities through local partnerships, programming, events and actions. In October 2019 Sophia was appointed by Mayor London Breed to the Commission on the Status of Women of the City and County of San Francisco.
Sophia has received an Achievement Award from the San Francisco Women's Political Committee, Certificate of Honor from the Board of Supervisors of San Francisco, the Community Public Service Award from Alice B. Toklas LGBT Democratic Club, and a certificate of honor from Mayor London Breed in recognition of her (and Women's March San Francisco) efforts to register women to vote and make San Francisco a more equitable place. Through her community work and career path, Sophia helps bring the voices of marginalized, queer, and women of color to the front. Her B.A. in International Business and French has served her in the corporate world, where she currently works as a senior analyst at Levi Strauss & Co. and co-chairs the Levi Women's Employee Resource Group.
COVID really shines a light on the systemic inequities in the country. It's also been revealing to see what, as a society, we value or don't value.