We're a megaphone for women who are fighting for equality, making sure their voices are heard loud and clear. Together, we shine a spotlight on critical issues, getting attention and support where it's most needed. When all our voices join together, we become impossible to ignore.
Campaigns
Our awareness-raising and action campaigns lift up the stories of women and women's movements all over the world. We aim to educate and inspire new audiences to become donors and activists for women's rights. View our current campaigns here.
Past campaigns
Our past campaigns focus on timely issues and unheard voices on themes from Women Human Rights defenders, Women fighting for their rights to self-determination, Women's Human Rights and Technology, Sexual Violence in Conflict, the Rights and Representation of Muslim women, and Motherhood and Women's Rights.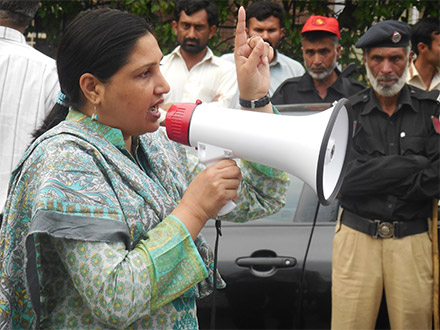 Raising voices in the news
When issues of women's rights are in the news, we respond quickly, and add the grass-roots perspectives and women's voices that are too often missing. We were among the first to report on the rise of rape by ISIS in Iraq, as well as the impact of the Nepal earthquake on women, and the work of women's rights groups both preceding and following the kidnap of the schoolgirls in Nigeria.
Read more Global Fund for Women stories and analysis on current news and women's rights issues, and check out our Media Room for stories we've placed in media and news.
Social media
We're proud to engage a massive – and growing – group of social followers (700,000+ and counting). Every day, we share the news that matters most in the fight for gender equality and women's rights.
Are you part of our social community?
Follow us on Twitter
Follow us on Facebook
Art, creativity, and women's voices
We showcase the art, photography, and creative media of women around the world telling their own stories, and those of other courageous women. We believe that art and creativity have the power to change hearts and minds, and transform conversations about women's rights. Our belief in the power of art for social change was strengthened by our merger in March 2014 with the International Museum of Women (IMOW), an online museum focused on inspiring and activating global audiences on women's rights issues. Our merger fuels our commitment to creative advocacy campaigns to advance gender equality.
Raise your voice
We believe that when we all – activists, local leaders, women's human rights defenders, donors, supporters – raise our voices, we will become impossible to ignore. Raise your voice for gender equality. Join women and men who want every woman to be strong, safe, powerful, and heard. No exceptions.