Self-care from the frontlines: Women human rights defenders on how they stay motivated to keep fighting
Posted on January 8, 2019
Women human rights defenders are at the forefront of advancing rights. They mobilize to create more just and less violent societies—and often at great cost. As a group they face attacks, death threats, travel bans, and surveillance. Their safety and the safety of their families is often at risk. 44 were killed just last year.
Yet they keep going.
We interviewed eleven women human rights defenders to learn how they stay inspired to continue pressing for progress. In response we heard about the unique role that individual and collective self-care plays in resistance. Far from an individual action, for them self-care is rooted in community, born out of preservation, and directly tied to resilience.
Here are stories from women human rights defenders around the world on how they care for themselves and, in turn, for their activism. We are sharing their strategies in hope that they spur inspiration and drive forward motivation—to uphold the human rights of women and in all our collective work—in the year ahead.
Safety first
It speaks volumes that many women human rights defenders cited basic physical security as the primary component of self-care. Rising misogyny and authoritarianism make their activism more acutely dangerous in many places, resulting in escalating violence as well as impunity for perpetrators. Women human rights defenders are killed with such alarming frequency that a yearly retrospective charts those murdered in the last twelve months. And a need for safety extends to digital and civil domains as much-needed spaces for civic participation and freedom of expression are shrinking and becoming more dangerous.
"Not to forget that everybody's under attack, even our president [of the Bahrain Center for Human Rights] is behind bars just for tweeting. Reprisals. All our photos were in the first page of the local magazine … the headline was [traitors]," said Nedal Al-Salman from the Bahrain Center for Human Rights. "I mean let's say when we talk about self-care… We do trainings. Security trainings."
Listening to the body
Women human rights defenders mobilize to protect their land, communities, and ways of life. And eighty percent of them don't receive a formal salary for the organizing they do for more than eight hours a day and therefore the ease that a steady salary can provide. Many reflected on how the high stakes and stress—mental and emotional—manifest physically. For some, self-care centered around the body and reflected physical needs for movement, walking, yoga, or simply awareness.
"Self-care…it's not about having massages or buying chocolate cakes. It's about recognizing the needs that we have and our bodies have," explained Salome Chagelishvili, from the Women's Fund in Georgia, a partner of ours.

"I was born into the civil war and all of my family members have experienced several wars… How are we holding, releasing, and transforming those wounds (and others) in our bodies? What happens to our relationships when we carry what is unresolved?…So for me now, one essential act of 'self-care' is about slowing down, it's about pace. It's about the ability to be vulnerable and to show up with an awareness of one's emotions in a space," said cynthia, a healing justice activist from the Eastern Mediterranean.
Community: self collective care
"When one person is attacked, everyone is impacted," Jessica Horn from the African Regional Institute for Integrated Responses to Violence Against Women and HIV/AIDS (AIR) explained. Organizing is collective and so is care. In acknowledgement of the communal aspect of self-care, some organizations have created community spaces for self-care and set up awards to celebrate group wins. Many of the activists we spoke to highlighted relationships—inside the work and outside of it—as intrinsic to self-care. Further, they noted that self-care is care for the community and vice-versa.
"You can't be the only voice in this work. It's so important to have allies and it's so important to bring them to your press conference, to the various events you organize and reach out to them and give them space to speak out in support of you," said Zainah Anwar, a founding member of Sisters in Islam and Musawah, both grantee partners of ours in Malaysia.

"I feel really blessed to have a lot of really solid friendships with feminists who are based in different parts of the globe. Sometimes it feels like existence is overwhelming as all we see shared on the news are atrocities…at the same time I feel safe because these people exist and are around. But that also means that it makes me have a lot more people to worry about and to care for if something happens in a certain region," said cynthia, a healing justice activist from the Eastern Mediterranean.

"We sometimes tell jokes about nearly everything just to keep the mood light. Because sometimes we have difficult days and you just don't know what is going to happen," explained a woman human rights defender from Uganda. "Nearly half the time and very stupid jokes but that keeps us going."

"Well, maybe it might sound a little bit banal, but we hug each other from time to time, we smile to each other a lot, we thank each other in public. And we praise each other for doing something…we share our experiences, we share our practices and we share our knowledge; how we have dealt with a particular situation in the particular context that might be useful for other colleagues," said Tea Jaliashvili from Women's Information Center in Georgia, another grantee partner.
Continuity—bringing up the next generation
Inspiring and empowering the next generation was very important to the women human rights defenders we spoke to. They work to include the next generation and invest in the movement through intergenerational leadership.
"Oh god, new people, younger people! They have to take over!" said Zainah Anwar, a founding member of Sisters in Islam and Musawah in Malaysia.

"You see the new generation; they're very keen to continue. That's why whenever I have a meeting, let's say with the embassy, with the delegation, I will always take one of the youth so that they learn the language, how to speak with the embassy," said Nedal Al-Salman from the Bahrain Center for Human Rights. "And with the youth, I think, with their participation, we will never end. We will continue working forever. Empowering the youth is very important."
Hope rooted in progress
Many found sustenance in the work itself, in persistence and in progress made. Ultimately signs of change keep many women human rights defenders inspired and charged up to continue.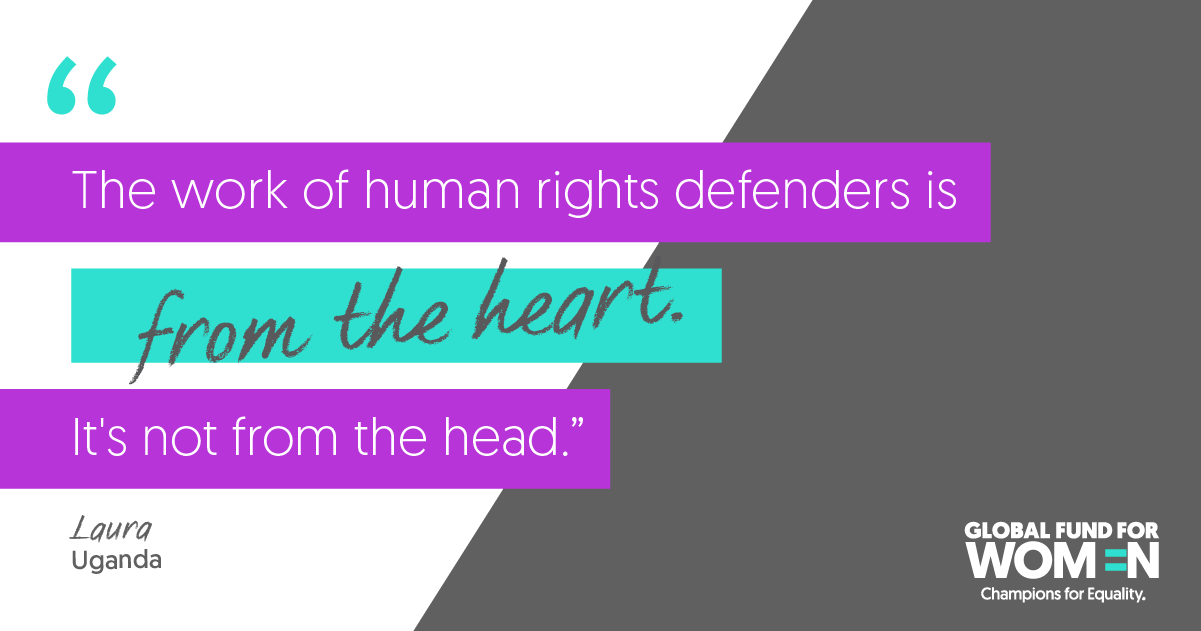 "Don't expect applause and recognition. You do this work because you believe in it. Really for me, we get attacked all the time…We don't cower down in fear and silence. Every attack is an opportunity to open up the space for debate, to get your supporters and allies to speak up for the work that you are doing and the cause that you believe in," said Zainah Anwar. "Every attack is a moment to recharge and re-energize and build new support."

"Never give up. Never give up, because this is what they want. I know that we're facing horrible times, I know everybody's depressed. If we stop working, this is what they aim for. So continue working!" said Nedal Al-Salman from the Bahrain Center for Human Rights

"Defending human rights defenders or the work of human rights defenders is from the heart. It's not from the head. And because it's from the heart, there's a warmth that is attached to it. A reassurance that everything will be fine, no matter what the odds are," explained Laura, a woman human rights defender in Uganda.

"It is not an option but rather an obligation to speak out, all of us together, to demand changes. I do not imagine my life without my activism. It is my conviction to do it and it makes me want to live," said Betty Vasquez, a land defender working with grantee partner Centro de Derechos de Mujeres in Honduras.

"Well first of all, I think that the most inspiring factor for us is to see how with our modest contribution we might make a small change in the lives of those that we are serving," said Tea Jaliashvili of Women's Information Center in Georgia. "Maybe we can work together to change something for the best."
These women—and many, many more across the globe—show bold leadership in the fight for women's rights. Let's take inspiration from their actions and words into the New Year to keep charged up for progress.