Posted on September 11, 2015
In 1998, Alupo was a district counselor in the Katakwi district of northeastern Uganda, an area that had long been plagued by conflict. Leaders from Global Fund for Women grantee partner ISIS-WICCE saw Alupo's leadership in the unstable region, and asked her to participate in peace-building trainings and to interview women about their experiences during the conflict. Alupo has had first-hand experience with the instability in her region: during a trip to interview women, Alupo was part of an ambush. She and the group she was with fled to safety, but 22 people were killed.
After learning more from ISIS-WICCE about human rights and conflict resolution, Alupo co-founded a local NGO called Teso Women, named after the region where she lives. ISIS-WICCE provided early support to help Teso Women document women's stories about their experience during the conflicts in Uganda. "Women have messy and terrifying stories of how they have been gang raped or tortured. Some of them have become traumatized, others have lost husbands and their children," Alupo says, adding that Teso Women collected these stories to better understand the women in their communities and start programs that would be of the most use to them. "When you don't know what happened in the community it is very difficult to know how to help. So the information that we got from the women helped us know which programs to start to advocate for women's human rights, and how to speak to the donors, communities, and local governments about the problems," says Alupo.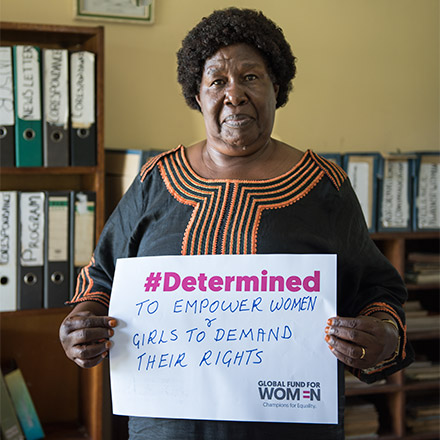 Through ISIS-WICCE's training, Alupo learned to speak up and put herself and other women in leadership roles, including during important peace negotiations in Uganda. "There were so many peace negotiations going on, but only men used to attend those forums. I said 'But women know what is happening to them, they suffer the experiences, so it should be women advocating for those women!'"
Alupo says women in Uganda are still unable to realize basic human rights. "There is sexual and gender-based violence, domestic violence—it actually makes women lose their dignity. Women are fighting for equality but it is still a long way," she explains. "Women, according to our culture, are not supposed to be coming out from the kitchen and having discussions with the men. We must break this kind of culture. We want these women walking side by side with men, not behind men."
Ugandan women are struggling with some important issues, including economic empowerment, access to education, and land rights—a right that Teso Women is working hard to help secure by leading a coalition of 14 women's groups that are advocating for women's land rights. "I'm determined to see women succeed and get their land rights. Land grabbing is a problem. That is one of the most crucial issues we have now in Teso and Uganda."
Women are fighting for equality but it is still a long way off. We want these women walking side by side with men, not behind men.