Solutions of Their Own: Learn About the YWL's Projects
The young women participating in Global Fund for Women's Young Women's Leadership Initiative work with their mentors to design and implement projects that address a social justice issue in their communities. The projects designed by the young women leaders in Nepal, Bangladesh, and India are already under way, while in the newly launched branches of the initiative in Tanzania and Kenya, the young women leaders are in the process of designing their community projects. Here are a few examples of the projects in South Asia and the critical challenges they are addressing in their communities.
---
ISSUE: Child, early, and forced marriage
YOUNG WOMAN LEADER: Binu Adhikary
COUNTRY: Bangladesh
GRANTEE PARTNER: Grameen Alo
Binu's project focuses on reducing early marriage in the Bogra District in Northern Bangladesh. Binu and her community-based young leaders go into local schools to raise awareness about early child marriage, using strategies such as wall murals and drama campaigns, and hold meetings with parents, teachers, and school administrators to make sure they have community support. Binu reports that the project has already resulted in changes in attitudes in the community around early marriage.
---
ISSUE: Public safety for young women
YOUNG WOMAN LEADER: Esther Moraes
COUNTRY: India
GRANTEE PARTNER: The YP Foundation
Esther worked with the YP Foundation to establish a collaboration with a local theater to teach participants about using theater to raise awareness about public safety for women and girls—an important issue in India. Young women stage public performances, showing that they can occupy and control public space. They also learn about using drama and theater as a way to start conversations about difficult topics such as gender-based violence. By using drama, community participants were able to articulate their experiences of inequality to their family and other community members in new ways.
---
ISSUE: Discrimination against menstruating adolescents and people
YOUNG WOMAN LEADER: Manika Shrestha
COUNTRY: Nepal
GRANTEE PARTNER: Nepal Mahila Ekata Samaj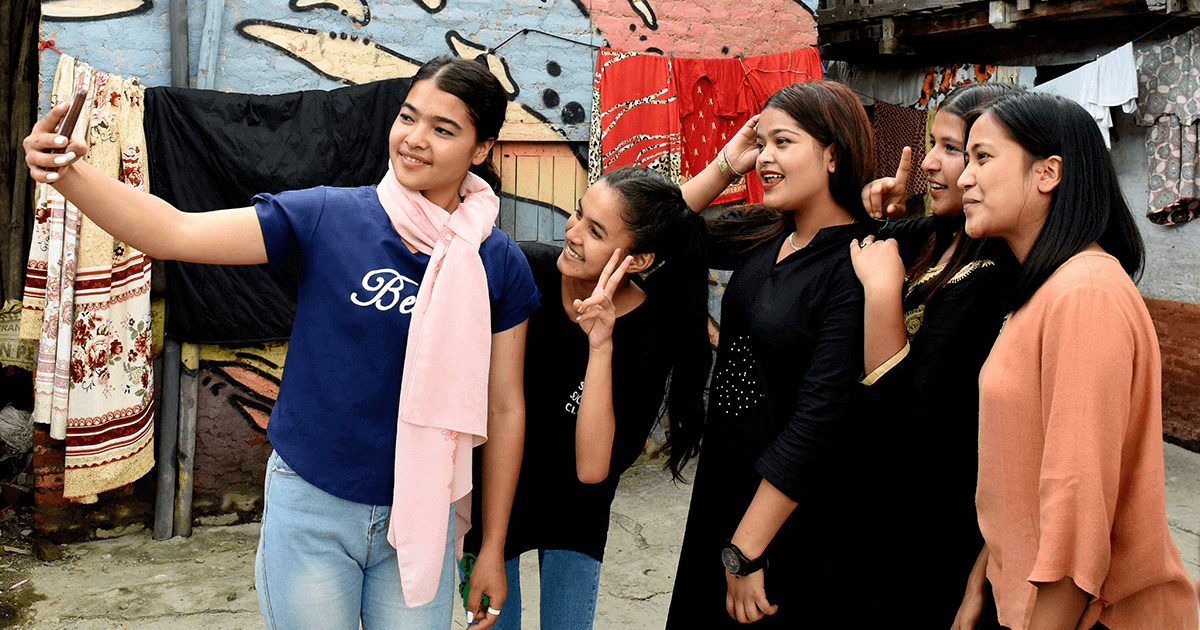 Manika and Nepal Mahila Ekata Samaj are working with 22 girls from adolescent girls' clubs in five different slums in Kathmandu to address discrimination against women and girls who are menstruating. Read more about Manika and her project here.
---
ISSUE: Acid and burn violence
YOUNG WOMAN LEADER: Amina Khatun Neela
COUNTRY: Bangladesh
GRANTEE PARTNER: Acid Survivors Network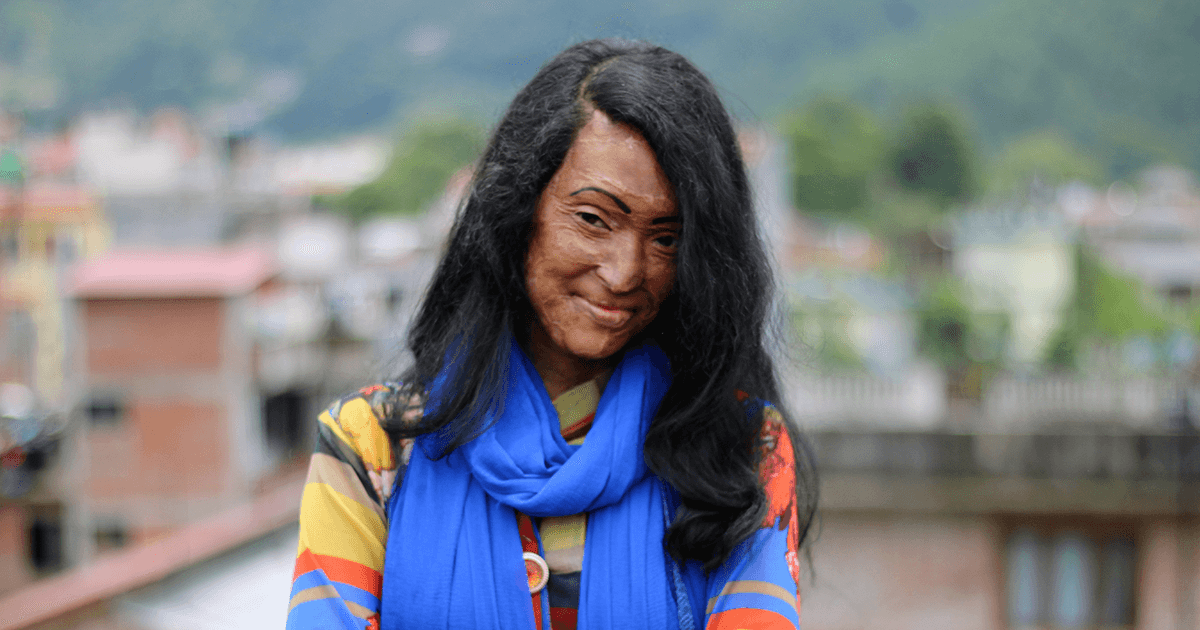 Amina designed a project to address acid and burn violence. Attackers target women and girls who challenge conservative social norms—for example, rejection of a marriage proposal. Perpetrators often aim for women's faces in an attempt to mark and disfigure the woman visibly. Amina launched the project and recruited community participants, working with them to strengthen their understanding of feminist leadership, movements, and power. As a result, the young women are now more comfortable raising their voices against violence and gender inequality in their community.
---
ISSUE: Domestic violence and sexual harassment
YOUNG WOMAN LEADER: Krishna Panchal
COUNTRY: India
GRANTEE PARTNER: Society for Nutrition, Education, and Health
Krishna is working with the community to raise awareness around domestic violence and sexual harassment, reduce community tolerance of violence against women, and increase bystander action. Women volunteers, called sanginis, identify domestic violence survivors, provide support, connect them with crisis intervention and counseling services, and facilitate police and health services. Krishna has reported spending critical time with community participants to help them better understand concepts like what qualifies as domestic violence and what their rights are.
---
ISSUE: Violence against women on public transportation
YOUNG WOMAN LEADER: Saraswati Pathak
COUNTRY: Nepal
GRANTEE PARTNER: Women Security Pressure Group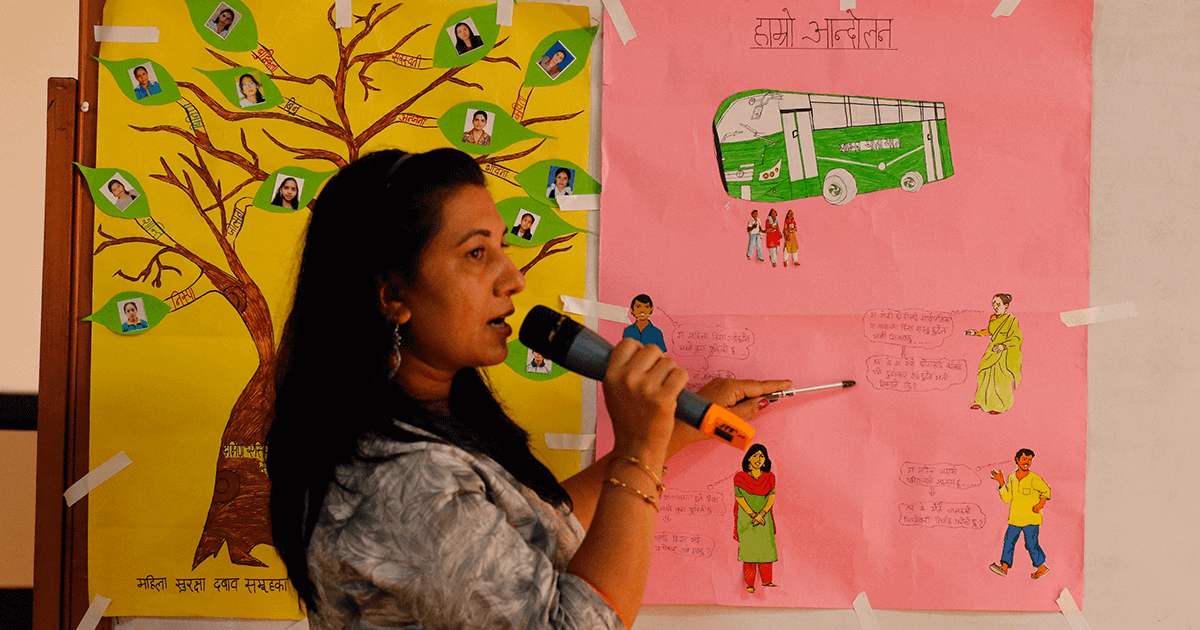 Saraswati's project focuses on the issue of violence against women and girls on public transportation. Working together, Saraswati and Women Security Pressure Group have approached transportation authorities about addressing the problem, led community trainings to increase understanding of gender-based violence and harassment, and hosted a self-defense training for young women in the community.