'A woman's place' is on the ballot: Our top eight stories on women & politics around the world
Posted on November 3, 2016
The United States saw a critical presidential election in 2016: a woman led a major party's presidential ticket for the first time in American history, and dialogue about gender equality and key issues like sexual violence, gender and racial discrimination, and a woman's right to choose were pushed into the spotlight. Women made history in the 2016 U.S. elections, not just for women, but for minorities, refugees, LGBTQI communities, and more.
Why does this matter for women and girls around the world?
It's simple: at Global Fund for Women, we believe that women's political empowerment and equal participation is one of the critical building blocks for women's human rights, along with women's right to live free from violence and discrimination, and to have full control over their own bodies.
The new Global Gender Gap Index, released by the World Economic Forum in October 2016, shows that the gender gap in political participation—a metric which includes the number of parliamentary and ministerial seats belonging to women and the tenures of female heads of state—between men and women is 77%.
It's 2017. Let that sink in.
Iceland came in the number one spot for the eighth straight year, largely because it is the top performer in political empowerment—in fact, in Iceland's elections in October 2016, female candidates won a record 30 of Parliament's 63 total seats. Rwanda, which is ranked fifth, has the highest share of female parliamentarians in the world at 64%.
Imagine the positive benefits for democracy, peace-building, and legislation if every woman had an equal chance to run for office, be a community leader, have an active voice in politics, or even vote.
Since 1987, Global Fund for Women has made nearly 2,000 grants to advance women's civic and political participation in 142 countries. Our work has boosted women's political representation in local governments and national parliaments in Afghanistan, Bulgaria, Cambodia, Fiji, Ghana, and in countless other countries. Our support to women's groups has helped change laws, support emerging democracies, and ensure women's engagement at critical moments of national reconstruction and peace-building; for example, in Rwanda, Liberia, and Bosnia.
We're taking a moment to reflect on our top eight stories and quotes on women & politics from around the world.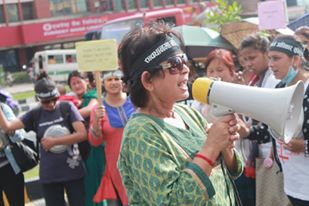 1. 5,000 more women on ballots in Asia Pacific
Global Fund for Women recently concluded the Funding Leadership and Opportunities for Women (FLOW) fund, a four-year $5.9 million initiative. Led by the Ministry of Foreign Affairs of the Netherlands to fuel women's leadership in Asia Pacific, we supported 139 organizations in 26 countries to end violence against women, ensure their economic security, and engage in political life. As a result, over 200,000 women developed skills to be leaders and advocate for women's rights in their own communities.
Global Fund for Women grantee partners prepared over 5,000 women to run for local office and 273 women for national offices as part of the FLOW fund. The result? More women in power shaping the future of their countries.
2. Brazilian women are ready for their comeback in 2018
"The message I want to get across from the women's movement is that we have a goal for 2018: to have a feminist, progressive political agenda and to have women in leadership. And in order to get there, we all need to support the women's movement." – KK Verdade, Executive Director of ELAS Fund, the only women's fund in Brazil and a longtime Global Fund for Women grantee partner.
We spoke with KK Verdade before the 2016 Summer Olympics in Rio to better understand the political and economic crisis in Brazil, following the impeachment of Dilma Rousseff and interim president Michel Temer's conservative push and all-white, all-male Cabinet. The latest polls show growing disapproval of Temer's leadership and, as KK Verdade pointed out, women are on the front lines, leading protests in Rio and throughout Brazil, and the women's movement continues to fight against rollbacks in women's rights proposed by the government.
3. 100 years of women voting, in pictures
For some women around the world, the fight for the right to vote is simply a history lesson—something that happened long ago in black and white. But for far too many other women, voting is a privilege they are still denied. They are advocating today, and will continue advocating to have their voices heard. Checkout our slideshow of powerful images of suffrage from our "Women, Power & Politics" campaign.
4. #DefendHer right to lead
"People have been living with this patriarchal system for so long, even women themselves are used to it and accept it. You are made to think political work is men's work." But #DefendHer Tin Tin Nyo is working fearlessly to change the status quo in Burma. Through her work with long-time Global Fund for Women grantee Burmese Women's Union, Tin Tin is a leader empowering more women to run for office, educating women to vote in the country's democratic election in 2015, and demanding women have a seat at the table during the peace-building process.
5. Changing the political landscape in Egypt
"The women in Egypt are powerful. If women will participate in political affairs, they will be very effective. They can change the political landscape in Egypt. They will change it… Women are one-half of Egypt, at least 45 million people. These 45 million people have big potential, not only economically but politically. They have to share in deciding their lives, in choosing how they want to live." – Dr. Magdy Abdel Hameed Belal, CEO of the Egyptian Association for Community Participation Enhancement (EACPE).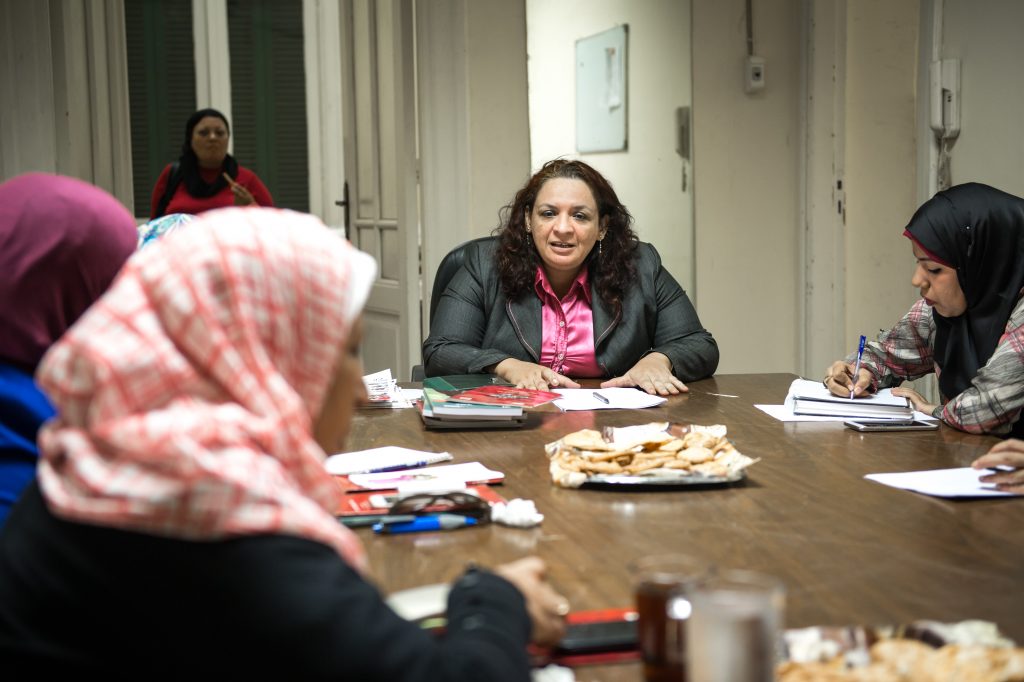 EACPE, one of Global Fund for Women's partners, has been working to monitor women's participation in Egyptian elections since 2005 by interviewing grassroots women to understand women's political participation in the field. EACPE evaluates the roles that media, money, and religion play in elections. They've found that many women in villages, when asked, "Who did you vote for?" will respond, "I don't know!" because their husbands will tell them who to vote for or will even fill out their ballots for them. Learn more about EACPE and other powerful organizations in the Middle East working to empower women politically in #DARING.
6. Young women's votes count in Fiji
Mamta Chand is a bold and effective advocate for young women's political participation in Fiji. As a leader with Global Fund for Women grantee partner the Fiji Women's Rights Movement (FWRM), Mamta works to educate young women about their rights and the issues candidates are running on in politics. She encourages women to be politically active and to use their voice and their vote to get closer to the Fiji they want. With FWRM, Mamta mobilized young women to vote in Fiji's first democratic parliamentary elections in eight years. As a result of the elections, one in seven Fijian Members of Parliament are now women!
7. A unanimous win for women and girls
"I've learned that women should realize their rights and they should talk to each other about their rights. They should only make decisions from their hearts, not from outside pressure. The biggest thing is that women should have equal rights because women are not inferior to men."
After becoming involved with Global Fund for Women grantee partner Disha Social Organization Uttarakhand, Rufa unanimously won the panchayat election, a local self-governance system in India, to become a local elected official in Dhaki village. In this role, she has worked tirelessly to improve the lives of women and girls. She had toilets installed for 50 poor women and helped over 100 women get jobs as part of the Mahatma Gandhi National Rural Employment Guarantee Act. She has also connected hundreds of women to a banking system and helped open bank accounts for them, organized self-help groups for women below the poverty line, and worked with women who have experienced domestic violence in her village. The best part? Rufa is #Determined to empower more women to run for office in India.
8. A quote that says it all
"This is a woman's right. Women have the right to be represented, they have the right to have a voice. If they are not represented, their issues will not be addressed. And they need to be at the table, they should be decision makers. Only through political participation will women be able to actually disrupt patriarchy." – Lina Abou Habib, Global Fund for Women's advisor for the Middle East and North Africa region, in #DARING.
*Editor's Note: Global Fund for Women is a registered 501(c)(3) non-profit organization and does not endorse or support any political parties or candidates.W
Only through political participation will women be able to actually disrupt patriarchy."