The CHANGEMAKERS Program is part of Global Fund for Women's commitment to support and bring light to gender justice movements and gender justice leaders defying the odds for social justice today.
Through the CHANGEMAKERS program, we share the stories of leaders in various fields—from artists, athletes, activists, and more—who are currently bringing about impactful change in their respective fields. This includes but is not limited to activists like Loretta J. Ross, professional athletes like Joanna Lohman, and our incredible advisors and grantee partners around the world.
Check out our CHANGEMAKERS program and learn more about feminist leaders making a difference.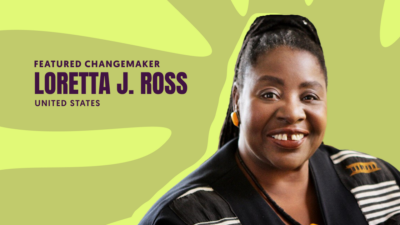 Loretta J. Ross joined the women's movement in 1978 by working at the first rape crisis center in the United States and learned about women's human rights, reproductive justice, white supremacy, and women of color organizing. Co-founder of SisterSong, she currently speaks, trains, consults, and lectures on many issues including Reproductive Justice, Appropriate Whiteness, Human Rights, Violence Against Women, and Calling in the Calling Out Culture.